Rival Pimp Slams Soccer Mom Turned Manhattan Madam, She's 'A Vindictive B***h'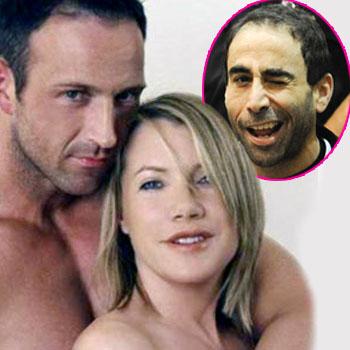 Article continues below advertisement
The New York crime boss went on to predict that the high-profile, influential names in Anna's "crazy big black book" will be shamed and brought down before the investigation into her Upper East Side brothel is over.
As RadarOnline.com has previously reported, Gristina appeared in Manhattan Supreme Court last Tuesday where evidence of her alleged prostitution operation was presented to the judge, who ordered that she be held at Rikers on $2 million bond as prosecutors consider her to be an extreme flight risk.
Itzler, who is also currently incarcerated at Rikers Island on drug and prostitution charges and awaiting trial next month, claims that three-times married Gristina used her connections in law enforcement to have his escort service shut down after he rejected her flirtatious advances.
He recalled one incident when the Scottish born X-rated mogul sent muscled henchmen to threaten him following a business dispute. "She sent three linebacker-sized guys to my office at New York Confidential," Itzler claimed, referring to his Manhattan escort operation. "One had a gun . . . This woman plays hardball.
Article continues below advertisement
"She really is connected," Itzler told the Daily News during a phone call from the prison. "When you control the hottest girls in the world, people kiss your a**."
Gristina has claimed that she would never reveal her clients identities to the District Attorney. "I'd bite my tongue off before I'd tell them anything," she said on Friday. "It's not about me; it's bigger than me ... police are trying to sweat me out. They are clearly trying to break me."
Meanwhile, her private investigator Vincent Parco told RadarOnline.com in an exclusive interview that she won't break under any pressure. "She will not talk, she will go to jail rather than give anyone up," he explained.
However, Itzler thinks she is going to sing like a bird given the opportunity. "I would expect she's going to hurt a lot of people, smear their reputations," he predicted. "Some people should be like, 'Man, I don't want to be caught in her web.'"
Article continues below advertisement
Big names in the Big Apple are already beginning to worry.
On Friday, disgraced ex-governor Eliot Spitzer released a statement denying a published report that he knew Gristina. He also denied warning the Manhattan madam about any law enforcement probe of what prosecutors said was the suburban mom's illicit business.
"Eliot Spitzer says that all the assertions out there are totally untrue, and . . . any claim that he violated an ongoing investigation is outrageous," said Client Nine spokeswoman Lisa Linden.