Meet The Fokkens, Amsterdam's 70-Year-Old Prostitute Twins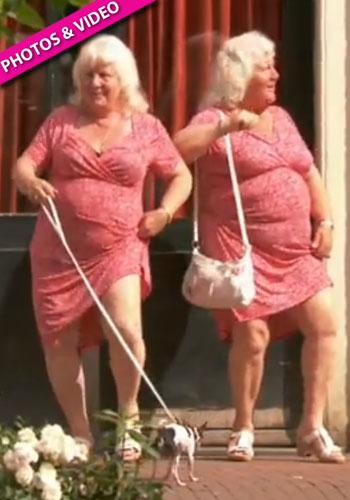 By Debbie Emery - RadarOnline.com Reporter
They say prostitution is the oldest profession in the world, and now the industry's most veteran members are opening up about their life under the red light.
Anyone who spotted 70-year-old identical twins Louise and Martine Fokkens on the streets of Amsterdam, Holland, would never guess they had more than a hundred years of experience in the sex trade between them, and the women are now swapping the brothel scene for the big screen with an autobiographical film ironically titled Meet The Fokkens, and a book about their lives that is set for release next month, reported the Guardian.co.uk.
Article continues below advertisement
With their well-weathered faces, shaggy greying fair hair, matronly bosoms and identical speech patterns, Louise and Martine certainly stand out from the lace and lingerie clad 20-somethings who flaunt their bodies in the windows of Amsterdam's famous whorehouses.
"I was beaten on to the streets by my husband in my early 20s," mother-of-three Louise told the Guardian. "He told me unless I earned money for him he would leave me, and I had children and loved him, so I had to do it."
As they finish each other's sentences and talk over one another, the twins unravel tales of violence, abuse, exploitation, and even the loss of offspring as they detail the often dark world of prostitution.
"We kept each other company," explained Louise, who quit the business two years ago because arthritis stopped her from doing certain sexual positions. "But Martine needs to carry on because there is not much money around."
Article continues below advertisement
The veterans explained that the legalization of prostitution in 2000 has been a burden on working girls' lives and has even increased organized crime. "There is no point working just for tax. That is why the girls are working from the internet and from home – you are less likely to be spotted by the taxman," explained Martine.
"The whole family used to live off your earnings and now the tax office comes up with crazy amounts you have to pay. It is better for the pimps and the foreigners, but not the Dutch girls. The vultures came in 2000."
In a clip from the enlightening film of their lives, the twins open up about the past four decades. "I can't tell you how many tricks we've had, countless," says Louise. "We hardly ever really f**ed unless they paid us well."
Ever the professionals, the pair manage to show off their fun side when they go sex toy shopping to pick up some tricks for their trade. "This one vibrates, it's nice!" giggles one of the old women.
Article continues below advertisement
Born into a middle class family with seven children, the twins had a happy upbringing but that went downhill when Louise began working as a prostitute after she married and before long they were working as a team. "We started doing threesomes, and that was how we ended up working in the same window brothel together," she revealed.
"Our mother drove down to the canal where we were working on the street and shouted: 'I see you! Your father is coming.' She hit me. I was very embarrassed for my parents," said Louise, as she painfully recalled the shame their careers brought on their parents.
Forty years later, they have saved little from their lifelong career. "She has no money to retire yet," Louise said of her sibling. "She can't live off a state pension."