Mike Tyson: 'I Was A Prostitute Hunter'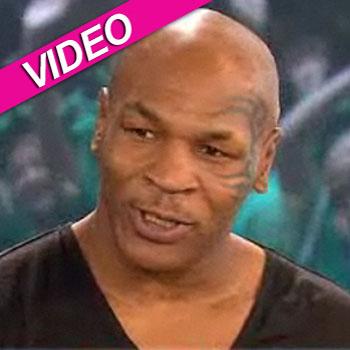 Say what you will about Mike Tyson -- it's not as if he won't say it himself.
The boxing icon, promoting his one-man show Mike Tyson: Undisputed Truth, appeared on The Today Show Tuesday alongside the show's director Spike Lee, didn't hold back much about his wilder days.
The humorous Tyson, 45, said he'll be happy to talk about the good old days in his Broadway show, despite his current -- much-mellower -- incarnation.
Article continues below advertisement
Asked by Ann Curry what made him want to turn a new leaf, the one-time ear-biter said he "just threw up the white flag" at the hijinks after nearly drowning in troubles of his own doing.
"There was too many prison cells, too many jails, too many lawsuits, too many bankruptcies, too many women, too many venereal diseases, too many everything! I got tired. I really got tired of, you know, like every time a prostitute -- I would head back from a trip -- I had to sleep with her. So I just said, 'I'm going to live a different life.'