Exclusive
Mike Tyson Sued For $25 Million By Photographer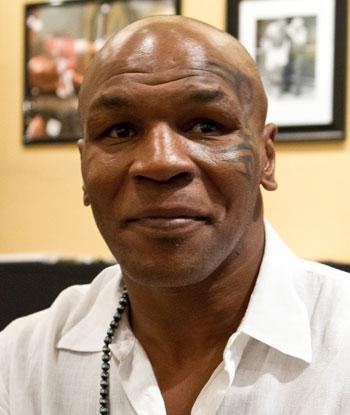 On Monday, a paparazzi photographer filed a $25 million lawsuit against Mike Tyson after he got in a fight with the former world champion boxer at LAX airport, RadarOnline.com has learned.
Antonio Echevarria lodged his suit at Los Angeles Superior Court claiming that Tyson told him "I will kill you" during the November 11, 2009, bust-up which resulted in the ex-boxer being booked for his part in the fight.
Article continues below advertisement
COURT DOCUMENTS: Read The Lawsuit Here
In his suit, Echevarria claims that Tyson and two LAX employees made false statements to the police which resulted in him being taken into custody also.
He claims the Tyson attacked him at LAX while he was filming the boxer and the injuries he sustained resulted in him being severely hurt in his health, strength and activity, sustaining severe injuries to his face, brain, spine, neck and other parts of his body.
Article continues below advertisement
The ex-boxer's attorney Shawn Chapman Holley released a statement claiming her client was aggressively pursued by Echevarria who bumped the stroller of Tyson's baby and ignored orders by airport personnel to leave him alone.
ONLY ON RADAR: Mike Tyson Attorney's Exclusive Statement Reveals New Facts Surrounding Arrest
Holley told RadarOnline.com: "Wednesday afternoon at approximately 3:30 pm, Mike Tyson, his wife, mother-in-law, assistant and 10-month-old baby daughter were walking through the United terminal at LAX, following an eleven-hour flight.
VIDEO: Mike Tyson Breaks Down While Discussing Daughter's Death On Oprah
"Mr. Tyson and his family were without security and attempting to make a connecting flight when they were aggressively approached by a paparazzo intent on provoking and harassing them. The paparazzo repeatedly refused to comply with the orders and directives of airport personnel to leave the family alone and continued to aggressively pursue the Tyson family--at one point colliding with the baby's stroller.
Article continues below advertisement
"There are numerous witnesses to the paparazzo's provocative and unlawful conduct which culminated in his assault on Mr. Tyson and Mr. Tyson's responsive act in defense of his family. Mr. Tyson cooperated with law enforcement authorities and demanded that a citizen's arrest be made against the paparazzo.
"Mr. Tyson remains confident that this matter will be appropriately addressed as the witnesses are interviewed and the facts borne out."