Exclusive
EXCLUSIVE: Boxing Champ Mike Tyson & Wife Expecting His Eighth Child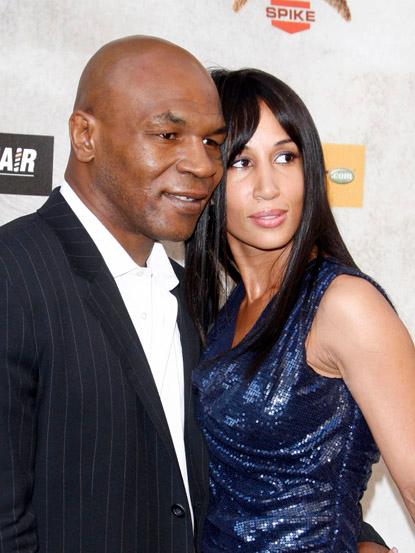 A year after the horrific death of his four-year-old daughter, boxer Mike Tyson is expecting his eighth child, RadarOnline.com is reporting exclusively.
Tyson's third wife Lakiha Spicer is five month pregnant.
"Lakiha and Mike are expecting a baby boy," a source close to the ex-heavyweight champ told RadarOnline.com.
The child will be Tyson's first after the shocking death of his four-year-old daughter Exodus, who died in May, 2009 after a tragic accident.
Article continues below advertisement
The girl suffocated after she either slipped or put her head in the loop of a cord hanging under a treadmill's console in her Phoenix home.
The fighter, 44, got married 10 days later to Lakiha, 32, in a private ceremony at the La Bella Wedding Chapel at the Las Vegas Hilton hotel.
Last week, Tyson was photographed taking the couple's two-year-old daughter, Milan, to a film premiere in Las Vegas.
During the weekend, he and his pregnant wife were spotted dining with friends at Palms Casino & Resort.
In May, the fighter revealed he is living paycheck to paycheck when he was a guest on talk show The View.
He said, "I'm totally destitute and broke. But I have an awesome life, I have an awesome wife who cares about me. I'm totally broke. I had a lot of fun. It (going broke) just happened.
VIDEO: Mike Tyson Breaks Down While Discussing Daughter's Death On Oprah
"I don't deserve to have the wife that I have; I don't deserve the kids that I have, but I do, and I'm very grateful."
Article continues below advertisement