Steve-O Breaks His Nose (On Mike Tyson's Fist) At Comedy Central Roast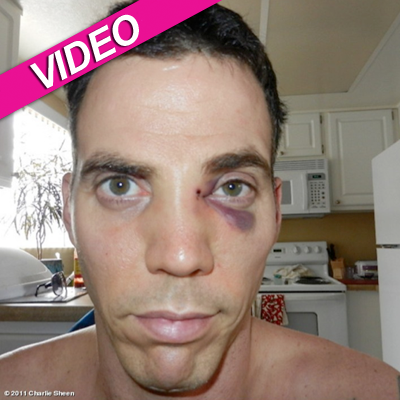 By Adam S. Levy - RadarOnline.com Staff Writer
Despite standing before a verbal firing squad for 90 minutes, Charlie Sheen left Monday night's Comedy Central roast without a scratch -- Steve-O, well that's a different story.
The Jackass star took the phrase "physical comedy" to a whole new level, ending the show by literally diving into the champion boxer's fist, a promise he made to his pal Sheen earlier in the night. He emerged bloody and bewildered with a broken nose, drawing a confused stare from William Shatner (who's presumably seen every life form in the galaxy).
Article continues below advertisement
Sheen later posted a photo on whosay of Steve-O, sporting a black eye and wrote:
"This is what @SteveO looked like the morning after the #SheenRoast - it's like a medical mugshot. You crazy bastard."
The raspy-voiced 37-year-old MTV personality avoided a possibly even worse pratfall Monday as Comedy Central edited out a vicious punchline he uttered in his set.
"The last time this many nobodies got roasted, at least the band Great White was playing," he said, referring to the February 20, 2003 fire at Rhode Island nightclub The Station in which 100 people tragically died.
Steve-O later released a statement apologizing for the insensitive comment.
Watch the video on RadarOnline.com
"I made a joke at the Charlie Sheen roast that I regret making," he said. "I've since spoken with the producers and asked them to edit it out of the show, which they agreed to do. It will definitely not air on television.
"I feel horrible about exercising such poor judgment and I'm really sorry for upsetting so many people."