Seth MacFarlane Reads Charlie Sheen 'Obituary' During Comedy Roast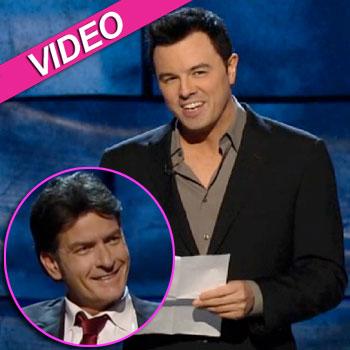 Charlie Sheen is no stranger to outrageous antics and scandalous behavior, so it's no surprise that Monday night's roast of the beleaguered actor should include plenty of both scandal and outrage.
In a hilarious clip, Family Guy creator and Roast Master, Seth MacFarlane, takes the stage to read a specially prepared 'obituary' for 45-year-old Sheen.
"We all know there's a good chance Charlie will be dead soon, so I wrote an obituary. Charlie Sheen, who became a tabloid fixture due to his problems with drugs and alcohol, was found dead in his apartment," MacFarlane says, before pausing, then continuing. "You know what? I actually kind of just copied Amy Winehouse's obituary.
Article continues below advertisement
"I only had to change three things though - the sex of the deceased, the location of the body and the part that says 'a talent that will be missed.'"
Ouch!
Other celebrity roasters that will be tearing the former Two and a Half Men star apart include, Mike Tyson, Jon Lovitz, Steve-O, Amy Schumer, William Shatner and Slash.
The Roast of Charlie Sheen airs Monday on Comedy Central at 10/9c.
Watch the Seth MacFarlane read Charlie Sheen's obituary below: