Charlie Sheen: 'You Can't Hurt Me… I Can't Even Hurt Me'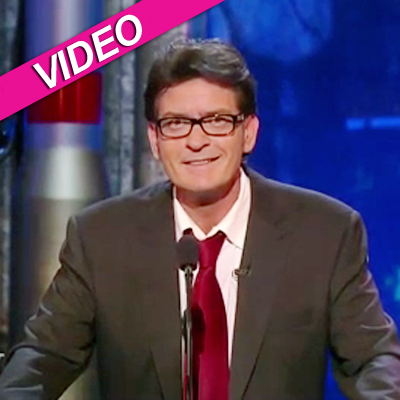 By Adam S. Levy - RadarOnline.com Staff Writer
After taking an unprecedented amount of abuse at his Comedy Central roast that aired Monday, Charlie Sheen picked himself up, took the mic with swagger and delivered a heartfelt speech letting the audience know he's still in the game.
"Wow, what a night -- until tonight, I never realized how f***ed up I was," Sheen said. "All this time I thought I was just having fun. The thing is once again, I come out unscathed.
Article continues below advertisement
"You can't hurt me -- hell, I can't even hurt me! Drugs couldn't kill me. Sex couldn't kill me. The press couldn't kill me. Two and a Half Men couldn't kill me. Did you really think your little jokes were going to kill me? I'm done with the winning cause I've already won.
"This roast may be over, but I'm Charlie Sheen. In here burns an internal fire. I just have to remember to keep it away from a crack pipe."
While Charlie's ex-wife Brooke Mueller was in attendance -- laughing at many jokes at her expense -- the rest of Sheen's family, including father Martin, brother Emilio Estevez and ex-wife Denise Richards, did not show up for the brutal comedy melee.
Watch the video on RadarOnline.com
Instead, stars like Private Practice star Kate Walsh, Mike Tyson, William Shatner, Steve-O and a host of comics filled the dais to roast the mercurial TV star at the event, pummeling Sheen with a series of no-holds-barred digs aimed at his hard-partying lifestyle, peppered with pointed barbs referencing his history of drug abuse, domestic violence and ill-fated career moves.
Article continues below advertisement
Among the outrageous punchlines of the evening:
Walsh: "For some reason, you're able to defy science and medicine and continue to survive. I'll pencil you in for your relapse next week."
Family Guy creator Seth McFarlane: Mueller's "here voluntarily -- no one put a knife to her throat."
The Roastmaster General Jeffrey Ross: "Charlie if you're winning, this must not be a child custody hearing!"
Ross on Mueller: "She's not very bright, unless Charlie's throwing a lamp at her!"