Mike Tyson Went From 'Hard Stallion To Wet Noodle' When He Saw Brad Pitt With Robin Givens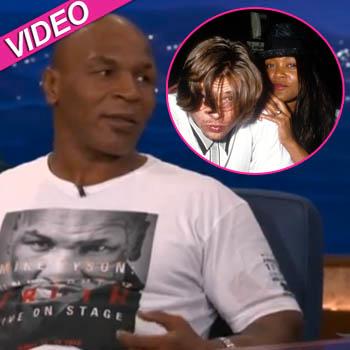 It's no easy feat to emasculate Mike Tyson, but Brad Pitt managed to pull that off.
Tyson, appearing on Conan Tuesday to promote a five-night tell-all show at the MGM Grand in Las Vegas, explained how the hunky Fight Club star's good looks served as a knockout punch to his morale some 20 years back.
Tyson told Conan that at the time, he was broken up with ex-wife Robin Givens, though they were still secretly hooking up, despite a fierce war of words in the media.
Article continues below advertisement
One night as he sat in his car, waiting for her to return to her home, she pulled up with the future king of the A-list, whose main claim to fame at the time was his eye candy role in 1991's Thelma & Louise.
"As I go to my car she drives up ... with the handsome Brad Pitt," the fighter said, adding the first thought to run through his head was, 'Aw man I ain't getting' no p***y tonight!"'
Conan joked, "Brad Pitt is the international symbol for that."
Conan reasoned that Pitt should have been the one disheartened, with an angry world champ stalking about, but Tyson says he was the legend who took the fall.
Watch the video on RadarOnline.com
"I went from a hard stallion to a wet noodle and it just totally overwhelmed me," the boxing legend said. "I had no energy to fight."
"Finally," Conan said. "A story I can relate to!"
Tyson's one-man show, Undisputed Truth -- Live on Stage, runs April 13-18.