Inside The Historic Hawaiian Leper Colony That Patients Call 'Home'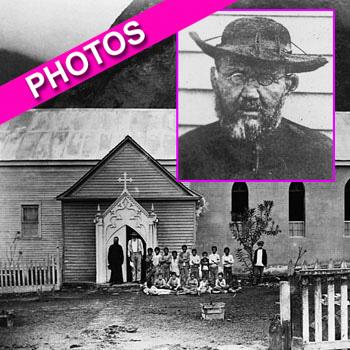 By Debbie Emery - RadarOnline.com Reporter
Surrounded by palm trees and within earshot of lapping waves of the Pacific Ocean, Kalaupapa doesn't seem like a bad place to be banished!
The remote Hawaiian peninsula is home to one of the world's oldest leper colonies and once housed 1,200 patients suffering from the deadly disease, but now dwindling numbers and an influx of tourism to the tropical islands is threatening its existence, reported the Maui News.
Article continues below advertisement
"I've heard people say it would be a nice resort," said 81-year-old Barbara Marks, one of 17 lepers who remain at the tropical colony. "I don't want them to do that to Kalaupapa. I don't want it to change. It's our home."
Kalaupapa Leprosy Settlement first opened its doors to the sick and needy in 1866 on a distant point on the island of Molokai, and since then 8,000 people have been separated from their families and placed in the care of the settlement that was ministered by Syracuse nun, Mother Marianne Cope.
In an eye-opening series of interviews, patients provided an unusual inside look into their lives of isolation and the debilitating disease that has been a mystery of popular culture for centuries.
Sufferers described doctors taking "snips" of their skin to test for leprosy, being poked and prodded and stared at as if they were "a monkey show." The much feared illness led to countless buried loved ones, babies being taken away and family visits spent with a chain-link fence separating them from their relatives.
Article continues below advertisement
While life was never easy in the colony despite its paradise location, many have a fondness for their unusual home. "I had a lot of sadness, but my life was not all bad," revealed Marks.
The settlement and its colorful history dates back to 1865, when Hawaii's King Kamehameha V implemented a policy of forced exile by approving the Act to Prevent the Spread of Leprosy.
According to the Maui News, with 2,000 foot cliffs cutting it off from the rest of Molokai and only accessible by foot, horse or small plane, Kalaupapa was chosen as the site of what became the world's first leprosy colony because of its isolated location.
Belgian missionary priest Father Damien brought intense attention to the colony, which was immortalized in literature by both Robert Louis Stevenson and Jack London, in the late 19th century, and has since been canonized by the Catholic Church.
In the early years survival rates were dire but by the 1940s medical advances prevented the transmission of Hansen's disease (as it is now called) and Hawaii formally lifted the quarantine in 1969, however many were reluctant to leave their adopted home.
Article continues below advertisement
Some, like 12-year-old Elroy Malo, were in the dark about their dreaded diagnosis when they first arrived. "My parents never explained anything to me," said Malo, now 78, who was sent to the colony in 1948 to join his four siblings. "No one talked about it."
Having since lost the use of both his hands and feet and sight, the leper, who now lives at Hale Mohalu, a state-run extension of Kalaupapa, still has happy memories of his home. "It was fabulous. We could go hiking and hunting in valleys and swim anytime. We went spear-fishing. We were just stranded there, and yet I loved it."
Others however, such as Clarence "Boogie" Kahilihiwa, who went there in 1959, describe it as like a prison.
"We were mostly programmed. They made me feel dirty. 'Go here, don't go there, don't touch that.' You could not get close. They were strict. Maybe some were scared. Maybe they were ignorant. A couple of times I said to myself, 'Why did I become a patient? Maybe I did something bad and was punished.'"
Article continues below advertisement
In 1976, Kalaupapa was designated a National Historic Landmark and, in 1980, Kalaupapa National Historical Park was created. As long as patients remain, the state of Hawaii and the National Park Service will continue to provide services and protect their dignity and privacy, said Stephen Prokop, Kalaupapa park superintendent.
"It's not a traditional place to come and swim and surf," Prokop said. "It's a sacred place, and we want to respect that."