Chilling Images Inside New England's Most Notorious Mental Institutes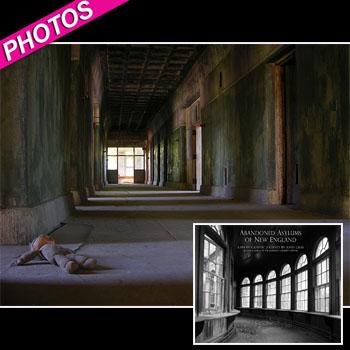 By Debbie Emery - RadarOnline.com Reporter
Eery images inside some of New England's most famous mental asylums and rehabilitation centers from the 19th century give a fascinating insight into the extreme measures used in the bygone era.
The dark collection is featured in Abandoned Asylums of New England: A Photographic Journey by John Gray, who ventured into the abandoned buildings and empty hallways of the forgotten institutions that were were closed decades ago.
Article continues below advertisement
Along with the photographic journey into the treatment of madness, criminal insanity and addiction, is an examination of the storied temples of control, treatment, and rehabilitation of individuals with disabling conditions.
The book is published by the The Museum of disABILITY History, and features asylums that have fallen from grandeur into demolition and disarray, such as the gigantic Kirkbride campuses to the airy tuberculosis hospitals.
The chilling images include forgotten dolls in dusty corridors, filthy kitchens, towering walls with bars on the windows, castle-like buildings in remote rural townships, rows of empty bathtubs now covered in graffiti, narrow metal-framed beds, and a lone wooden wheelchair.
Gray was inspired to photograph the institutions after visiting Danvers State Hospital in 2000. "Soon after I realized that there were many other abandoned institutions all over so it kind of just grew from there," he told MailOnline.
Article continues below advertisement
Anorexic Twins Die In House Fire After Vowing They 'Didn't Want To Live'
"I shoot hospitals, jails, buildings, rail tunnels, sewers, schools, anything that looks interesting."
So far, he has photographed Fairfield State Hospital in Connecticut, and Northampton State Hospital, Worcester State Hospital, Belchertown State School, Lakeville State Hospital, Taunton State Hospital, Metropolitan State Hospital in Massachusetts, among others in New York, New Jersey and Illinois.
Traveling with a friend or two, he visits the asylums for days at a time, capturing them by day and night.
"They're so large; it's difficult to document an entire place in one single day. These places were once their own towns," explained Gray, who has even discovered forgotten medical records and personal items that were simply left behind.
RELATED STORIES:
Amanda Bynes NOT In Rehab: Not Planning On Going Anytime Soon