Teenage Boy With Down Syndrome Kicked Off First Class Flight, 'It's Defamation' Says Father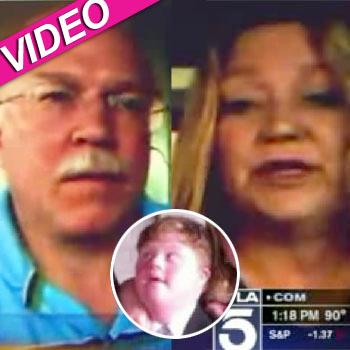 By Debbie Emery - RadarOnline.com Reporter
A family from California had hoped to hit the high skies in style with American Airlines but instead now may be heading to the courtroom after their 16-year-old son with Down Syndrome was banned from flying in first class.
Joan and Robert Vanderhorst, of Bakersfield, Calif. were outraged when officials told them that Bede was considered "a flight risk" and wouldn't be permitted to take his seat for the trip from Newark to Los Angeles, despite his parents dishing out an extra $625 for an upgrade, reported the New York Daily News.
Article continues below advertisement
"It's defamation," the humiliated father revealed. "It's a violation of his civil rights and it's defamation."
"Nothing like this has ever happened to us before. That's what's so shocking. He's usually our good luck charm. Good things usually happen when Bede is with us," Vanderhorst, who is an attorney, went on to say, explaining that the high school freshman has flown at least 30 times before and never been any trouble.
Outraged at the reaction from AA after they were informed that the pilot didn't feel safe having their son on the plane, Joan Vanderhorst pulled out her cell phone and started recording the incident on Sunday in which Bede is seen quietly playing with his hat until an American Airlines official warns that she was prohibited from filming "in a security-controlled area."
Joan, who can be heard sobbing in the footage, claimed: "We are being singled out," she said, explaining how the Port Authority police arrived to escort them away from the gate.
Article continues below advertisement
"It was horrible, humiliating. We were treated like criminals… One officer even told me to call our congressman and report the pilot," Vanderhorst said.
Despite the terrible treatment, American Airlines has stood by pilot Jeff Hickey's decision not to let Bede board the flight, claiming it was because he became agitated in the waiting area. "Asking the family to take the next flight was a decision that was made with careful consideration and that was done based on the behavior of the teen," the airline said.
"Our customer service team worked with the Vanderhorst family and the EWR (Newark airport) team, as well as the crew, tried to get Bede comfortable. Unfortunately, the crew determined he was still agitated."
Refusing to back down, Vanderhorst has spoken with his lawyer about legal action. "My son cannot defend himself," he said. "I expect that American Airlines will not give their pilots the ability to discriminate against anyone; gay, black, disabled."