Down Syndrome Teen Wins Prom King Title In Landslide Victory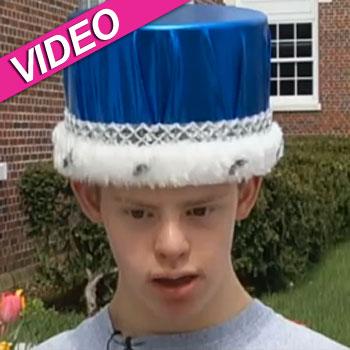 A proud teen who has Down syndrome has defied the odds to win his high school's coveted title of Prom King.
Max Jackowski of Lake George, New York hasn't stopped dancing since he picked up his crown.
Like a scene from a teen movie, when his name was called Lake George High School students and staff clapped and cheered as they gave him a standing ovation.
His landslide victory saw him win 80 percent of the votes and he couldn't be happier.
Article continues below advertisement
"I'm so happy. I'm so excited," Max told TV station WNYT.
The cheerful king won the hearts of his fellow schoolmates to earn the crown, which is often awarded to the school's star athlete or top student, and no one was more surprised than his mom.
"I never imagined he'd go to the prom in the first place," said Lisa Jackowski who attended the coronation. "I just started to cry. It was joyful. It was exciting."
Max didn't pick up his title alone after scoring himself a date for the big night.
"He's just always smiling, so happy. I knew I wanted to go with someone that would be happy and fun to be around," said his date Hahnah Saroff.
Max will hold onto the crown until next year when he will pass it to the new king.
RELATED STORIES: