Exclusive
Kelly Osbourne's Drunken Breakdown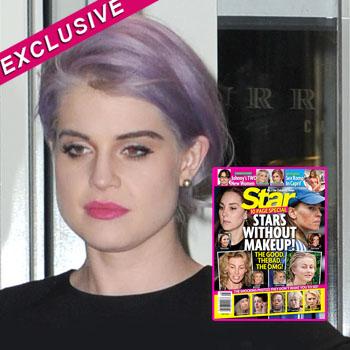 Kelly Osbourne is cracking under the pressure of her brother Jack Osbourne's devastating multiple sclerosis diagnosis, and the former reality TV star, actress and singer recently suffered a drunken breakdown.
On June 19 Kelly boarded a flight from LAX to Atlanta and that's where her trouble started, Star magazine has exclusively learned.
"She was gorgeous when she got on the flight," an eyewitness tells Star. "Her makeup was impeccable, her hair was up in a smart-looking bun and she was wearing cool shades."
Article continues below advertisement
However, the stress of recent weeks must have driven Ozzy and Sharon Osbourne's daughter over the edge during her flight.
"I saw a flight attendant bring alcoholic beverages over to Kelly's section in First Class at least four or five times," the eyewitness says.
"And when we landed just after midnight, her assistant, who flew with her, had to help her off the plane. They were the last to leave. There was already a burly security guard waiting for them at the arrivals lounge."
By this time, says the eyewitness, "Kelly's hair was hanging down, she was mumbling and her makeup was a mess. The guard and her assistant supported her under each arm and basically carried her down the corridor to the airport tram, with Kelly swaying from side to side. I felt so sorry for her."
Kelly's four hour flight wasn't a pleasant time for the 27-year-old, who has reportedly been to rehab four times. Less than 24 hours after the flight she Tweeted: "had a nerves breakdown yesterday that was cool! #Not."
Article continues below advertisement
Kelly Osbourne Downs Champagne At Friend's Wedding
Despite the breakdown, a friend tells Star that Kelly is "tough as nails, and she always lands on her feet. She's had so much to deal with at a young age, and she's tried to handle it the best she can. I wouldn't be surprised at all if the sudden sad news about Jack helped push her into a dark place again. But she'll come through it OK."
For more details about Kelly's breakdown pick up the new issue of Star magazine -- on newsstands Thursday.