Exclusive
'Wasted' Kelly Osbourne Buys Pot Cookie While Drinking In Bar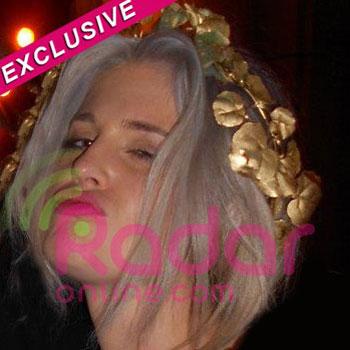 Article continues below advertisement
"Kelly was dropping her sunglasses and hat and she had to hold on to someone to stand up," the eyewitness said.
While having a cigarette outside the bar the eyewitness said they saw her talking to a woman nicknamed Lady Cakes and that she "bought a $10 pot molasses cookie" from her.
"She quickly stuffed it in her mouth," the eyewitness said, and told the woman: "you're going to be my personal supplier now."
As the night progressed Kelly was overheard talking to friends about her brother Jack's upcoming wedding to Lisa Stelly.
"She was saying that she wanted Lisa to buy an expensive dress, like a Marchesa, and if she had to she would buy it for her. She also made fun of where Lisa registered for baby presents, saying 'I told her to go to Gucci or Chanel.'"
Kelly also got very emotional during the evening when a friend started talking about Amy Winehouse, the singer who tragically lost her life to alcohol last year.
Article continues below advertisement
"Kelly said 'I'm about to start crying,' when Amy was brought up and she looked devastated."
As RadarOnline.com previously reported, at a pre-Golden Globes party Saturday night Kelly was seen visibly drunk.
"Kelly was so wasted," an eyewitness who partied near the Fashion Police host tells RadarOnline.com. "At one point she almost fell back and I had to catch her!"
Calls and e-mails to Kelly's rep were not returned at time of post.