Kelly Osbourne Downs Champagne At Friend's Wedding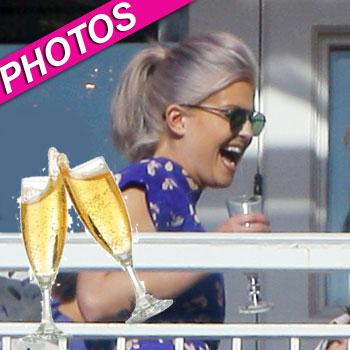 Kelly Osbourne didn't shy away from the champagne tray at her friend's wedding Saturday.
She was seen knocking back the bubbly at the event in Beverly Hills and is clearly no longer a teetotaler.
The Fashion Police host wore a purple and white dress which matched the décor of the wedding and also her silver hair.
As RadarOnline previously reported, Kelly has fallen off the wagon and been drinking again.
Article continues below advertisement
An eyewitness told RadarOnline.com last month that Kelly was "clearly wasted" and "bought a $10 pot molasses cookie" from a woman outside the Cha Cha Lounge in Silverlake, California.
Meanwhile, the daughter of Sharon Osbourne apparently has a new gig according to UK reports. She will be guest judge on the upcoming season of America's Next Top Model where old contestants from the British counterpart show will go up against a new crop of U.S. beauties.