America's Next Top Model To Meth Addict: Dr. Phil Tries To Save Drug-Addled Reality Star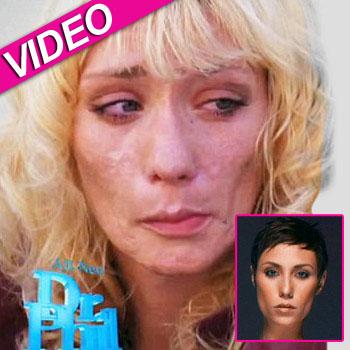 A former America's Next Top Model contestant's battle with crystal meth addiction is the subject of an explosive new episode of Dr. Phil, and RadarOnline.com has video of the reality doc's intervention.
Six years ago, striking beauty Jael Strauss was a finalist on the Tyra Banks hosted show; expected to go on and achieve great things - a career in fashion beckoned and the world was her oyster.
Article continues below advertisement
However, after becoming hooked on methamphetamine, Strauss, 28, soon became a helpless addict and in an episode airing on September 13, her family turns to Dr. Phil McGraw for an intervention.
Ravaged in appearance and living on the streets, Strauss is hunted down by interventionists Brandon and Debbie, who ask her to travel to Los Angeles to see Dr. Phil.
Reluctantly she agrees. But after she finds herself on the stage, she runs out of the studio and into the Paramount parking lot.
Realizing the extent of her issues, Dr. Phil follows her, noting: "This is the first time in 10 years I've come out here, to talk to you."
It isn't the first time Strauss, who claims to be well-rounded, has struggled with her emotions on TV.
In 2007, in cycle eight of America's Next Top Model, she was filmed struggling to cope with the death of a close friend from a drug overdose.
Later that year, Strauss sued a photographer over a set of erotic pictures that were taken when she was just 16 years old.
Article continues below advertisement
Her family conceded that her friend's overdose "really shook her," but it wasn't enough to wean Strauss off drugs herself.
Viewers should be warned that Strauss, once a beautiful woman, appears anything but, with teeth rotten, a body covered in sores and heartbreaking mental issues that make this a difficult watch.
MORE ON:
America's Next Top Model
Woman High On Bath Salts Strips Naked In A Park For The Second Time
Jamie Lee Curtis On Addiction, 'Getting Sober Was The Single Bravest Thing I've Ever Done'
'Godmother of Cocaine' Griselda Blanco Shot Dead By Motorcycle Hitmen