Exclusive
Bikini Model Busted For Allegedly Running A Meth Ring 'Is Being Picked On By Cops,' Claims Pal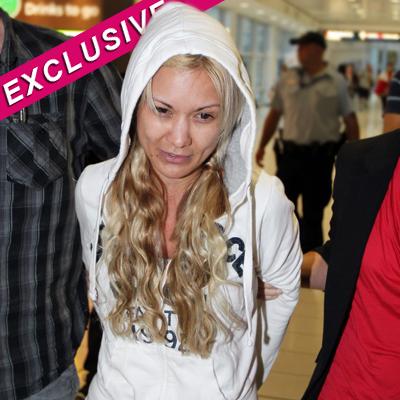 Article continues below advertisement
The Ed Hardy model claims she was running for her life -- not from the cops -- because of a fear that big time drug dealers were trying to kill her, and those close to the 37-year-old blonde believe she is being unfairly victimized.
"There are people in Australia who did murders or armed robberies that don't get as much harassment as she has had," Simone's pal told RadarOnline.com in an exclusive interview. "It's not like she ran the whole deal, she wasn't a king pin. The punishment doesn't seem to fit the crime."
Farrow's friend went on say that at first he thought she was exaggerating the risk to her life, but he soon became to believe she was being threatened.
"I thought maybe she was a bit out of it but then the more I hung out with her I realized she was telling the truth. No one can make that up," said the insider during a phone call from Australia.
"Towards the end I could see that she was scared when I would drop her off at the police station to check in every day, then I learned the seriousness of it.
Article continues below advertisement
"The drug dealers ripped up her car and left a huge mess - that was when I realized she was telling the truth. The feds were phone tapping her, and she got weird calls."
Terrified that the dealers were trying to murder her, Farrow fled up north earlier this month, and called her friend from the road to let him know she was alive.
"She called me twice on a blocked number, she sounded OK and kind of normal, but it is hard to tell with her," he explained. "She can be very manic but I don't know if that is because she was on drugs or because she was scared.
"I have never seen her do drugs in front of me but I have come over to her house in the past when she has been mess.
"I don't know how deep her problem was as I wasn't around her when she was in Los Angeles, we became really close about six months ago after she moved back to Sydney."
According to the Herald Sun, Simone has been accused of trafficking meth from a plush Hollywood high-rise and is now charged with importing the drug into Australia as the brains behind an "ongoing criminal enterprise" that involved at least seven people. U.S. and Australian drug officials have been jointly working the case since 2009.
Article continues below advertisement
Her pal doesn't know what shady characters Simone was involved with, but told RadarOnline.com, "She rattles off names to me as if I know them, but I have no idea what she's talking about and just agree. She's talked about who was threatening her, but I don't know who they are.
"I suspect she was drug running for dealers, but her story was scattered, she would start the conversation half way through so I never really knew what she was talking about," explained the source, claiming that Farrow always said it was just a "small amount" of drugs.
Following her initial arrest, the model was released on a $150,000 bond paid by attorney Anthony Renshaw, on the condition that she remain at his Double Bay apartment, before moving to another friend's apartment in nearby Paddington.
Currently held in a Sydney area prison, her pal is hoping to see the pretty blonde as soon as she is allowed visitors.
"I don't know what she will do now. She usually calls me when she can. I assume she is talking to her lawyers," he told RadarOnline.com. "She has a lot of high profile friends in Sydney, hopefully they are trying to help her, but I am sure a lot of people just bail and want nothing to do with it."