Exclusive
Bikini Model Arrested For Allegedly Running Meth Ring Calls Herself A 'Drug Free Fairy'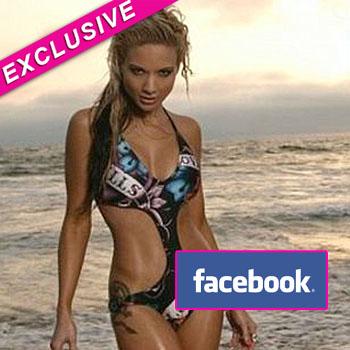 By Debbie Emery - RadarOnline.com Reporter
The Australian model who was arrested for allegedly running an international drugs ring had posted a series of bizarre updates on her Facebook page before she was locked up, and RadarOnline.com has details of her strange online meltdown.
Blonde bikini model Simone Farrow dubbed herself a "Drug Free Fairy," in a status update on March 7, followed by a cryptic message that read: "All on side wit da boys that ride... Angel Rain.♥ Time to take her home.♥"
Article continues below advertisement
As RadarOnline.com previously reported, Farrow, who did numerous ads for the Ed Hardy line, was voted one of FHM's "sexiest women in the world" and was a Penthouse Pet, was found hiding out in a cheap motel on Australia's Queensland's Gold Coast before being extradited to Sydney on Saturday.
The 37-year-old is accused of trafficking the drug meth in bags of bath salts from an elegant apartment just off famed Sunset Blvd. in Hollywood and police claim she has at least 19 aliases.
In her Facebook rant posted before her arrest, Farrow, using the online name Simone Starr, revealed how she was in fear of her life.
"I have been silent for nearly three years whilst I sit here being maliciously treated and wrongly defamed. I am tired of being fearful and people threatening my life for reasons unknown to me and being unfairly treated with no basis ruining my life and my emotional state before a fair trial has even been given to me," she wrote.
Article continues below advertisement
"Singling me out because I have skeletons in my closet :( etc... Which doesn't include drug charges. There is something wrong with our system and I now fight for the people and my innocence and freedom.
"Why should I be treated any different to any other person who is charged. Guilty or Not."
The accused drug trafficker told Australia's Sunday Telegraph that she went into hiding because she thought "underworld figures" were "trying to murder me."
"It's either a person or an organization," she said. "I will bring (details) to light during the next couple of weeks," she revealed.
Earlier in her Facebook rampage she wrote, "I am not a animal. I am a human being. The tears I cry run red because my soul now bleeds. Words will never be able to describe the pain and anguish I have unfairly been put through along with anyone else unknown to me in my case.
Article continues below advertisement
"I am trying to survive this and not die!" she said. "I have been quiet for two years and three months. I just feel I am getting no one to hear me even inside the court room."
Farrow revealed that she has hired defense lawyer Tom Hughes, whom she has faith in to fight for justice for her.
Police allege she set up a fake company, and made shipments of drugs -- hiding them inside bath products -- back to her native Australia using FedEx and the postal service. U.S. and Australian drug officials have been jointly working the case since 2009, the Sydney Herald Sun reports.