Behind The Cell Door, Life Inside California's Notorious San Quentin Prison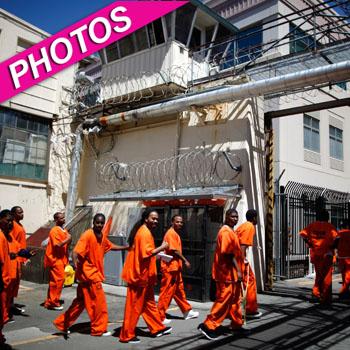 By Debbie Emery - Radar Reporter
Few people can imagine what life is like on death row for inmates awaiting execution, but a series of groundbreaking photos are opening the jail cell doors of California's notorious San Quentin prison and RadarOnline.com has the insightful images.
Photographer Lucy Nicholson gained rare access into the high security penitentiary that is home to "the largest death row on the Western hemisphere," including infamous wife and baby killer, Scott Peterson.
Article continues below advertisement
Built in 1852, San Quentin is California's oldest prison and the only death row facility in the state for male inmates. The ultimate penalty used to be carried out in the gas chamber, but now is administered by lethal injection.
Nicholson's eye-opening images spotlight the problem of overcrowding, as 5,247 inmates are packed into the space that was only designed to house 3,302 convicts on the 275 acres of prime waterfront real estate overlooking the north side of San Francisco Bay, which is so large that it even has its own zip code, 94974.
Prisoners spotlighted in the photo montage include Marvin Caldwell, 63, who was imprisoned for 20 years under the three strikes law for possession and sale of methamphetamine, and now spends his days in his cramped single bed cell. Also punished for three strikes of petty theft, 70-year-old Jimmy Merjil is destined to spend the rest of his days at San Quentin.
One of the most disturbing photos shows "administrative segregation" (also known as isolation or the hole) prisoners sit in individual cages as they take part in a group therapy session.
Article continues below advertisement
Over the course of its colorful history, San Quentin has been home to some of America's most conspicuous criminals including Charles Ng, a serial killer who tortured and murdered 11 people and was sentenced to death in 1999, Charles Manson, who was transferred to Corcoran State Prison in 1989, and Sirhan Sirhan, who was sent to San Quentin's death row for assassinating Robert F. Kennedy.
RELATED STORIES: