DUI Millionaire Who Adopted His Girlfriend, In Prison After Smashing Open His Ankle Bracelet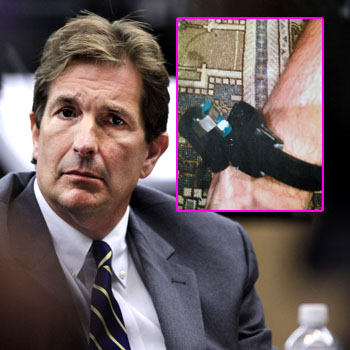 By Debbie Emery - RadarOnline.com Reporter
After notoriously adopting his girlfriend to try and evade losing his fortune in a civil lawsuit from the family of the man he killed drunk driving, millionaire John Goodman has now attempted to cut off his ankle bracelet with a smashed mirror to escape house arrest.
The polo mogul's illicit attempt backfired and he was instead taken into custody late Wednesday night after sheriff's deputies determined he tampered with the monitoring device, reported the Palm Beach Post.
Article continues below advertisement
Deputies also found scissors in the bathroom, which they claim Goodman likely intended to use to cut the monitor's strap from his ankle.
As RadarOnline.com previously reported, the 48-year-old polo club founder had previously adopted his 42-year-old girlfriend, Heather Laruso Hutchins, in his bid to protect his $300 million estate from the family of engineering graduate Scott Wilson, 23, whose car he fatally crashed into.
Goodman was found guilty in March of DUI, manslaughter and vehicular homicide and has since agreed to pay the victim's family $46 million rather than going through the civil lawsuit.
He was sentenced to 16 years for the fatal crime but has been on house arrest at his Wellington estate in Palm Beach, Florida since May while he appeals the conviction.
Now the convicted drunk driver is behind bars, following his devious bid for freedom after deputies were alerted of the infringement just 35 seconds after he tampered with the monitor.
Article continues below advertisement
"He's back in the Gun Club hotel…That's where he's going to stay," Palm Beach County Sheriff Ric Bradshaw told the Post. The Palm Beach County State Attorney's Office is now filing a motion to revoke Goodman's bond and a hearing will soon follow.
If approved, Goodman will have to say goodbye to the 160-acre complex and the world-renowned polo club he founded where he has been allowed to stay on a $7 million bond and with the condition that he pay for two off-duty deputies to watch him day and night.
RELATED STORIES:
Linda Hogan DUI Arrest: The Mugshot
Mike 'The Situation' Sorrentino 'Was Not Drinking' Says Rep, Amid Rumors He's Back Boozing
Amanda Bynes Pleads Not Guilty In Hit & Run Cases, Judge Orders Actress To Turn Herself Into Cops To Be Booked