REPORT: Officials Visit Lindsay Lohan's House After Ankle Bracelet Goes Off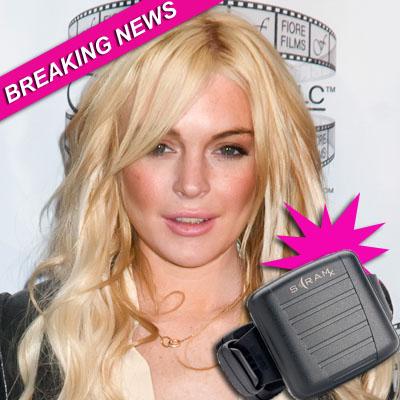 Probation officials in Los Angeles paid a visit to Lindsay Lohan's Venice Beach home Tuesday, after the electronic ankle monitor she's wearing on her ankle went off.
It's not clear why the monitor went off, according to the LA Times.
The actress, according to the paper, was watching her 3-D TV, browsing scripts and posing for photographs for the tabloids on her rooftop at the time authorities arrived.
Article continues below advertisement
"They came as part of standard procedure to make sure the monitoring equipment was working properly," her rep Steve Honig told the LA Times on Thursday.
When contacted by RadarOnline.com, Los Angeles County Sheriff's Department spokesman Steve Whitmore told us: "I don't know anything about her bracelet going off."
A source close to the situation tells RadarOnline.com that it appears to have been an ankle bracelet malfunction and that Lindsay did not violate her court order.
"Lindsay is obeying all the rules and hasn't taken a single step out of the line," the source says.
Meanwhile, Lindsay's father, Michael Lohan is weighing in, telling RadarOnline.com that he experienced the exact same technical difficulty as his daughter.
"I went through the same thing myself with my GPS," Michael says. "They are mechanical devices and they make mistakes. I believe in Lindsay, I support her and I am happy to finally say that Dina, our kids and I are finally getting on the same page.
Article continues below advertisement
"I had to make some adjustments and fix things I did and didn't do, which I have. Gladly, and its working. Thank God."
Lohan was fitted with an electronic ankle monitor at the Lynwood Jail before retuning to her Venice Beach home, where she's serving her 35 days of house arrest. She's also been ordered by 480 hours of community service, expected to be divided between a women's center and a morgue.
RELATED STORIES: