Linda Hogan DUI Arrest: The Mugshot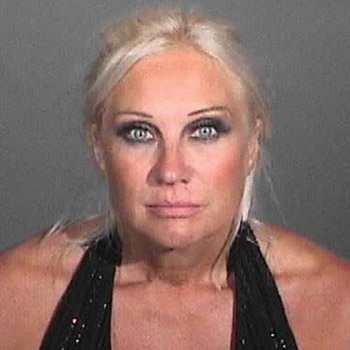 By Jon Boon - RadarOnline.com Reporter
It could be purely coincidental – but the same day a sex tape featuring her ex-husband Hulk Hogan was leaked, Linda Hogan provided this mugshot for cops after being pulled over for DUI, RadarOnline.com reports.
The 53-year-old former wife of the wrestling star was stopped by cops for speeding in Malibu, California on Thursday at around 1.30 a.m., registering a blood alcohol level of 0.084 in a breathalyzer test – just over the 0.08 legal limit.
Article continues below advertisement
According to her lawyer, she was hospitalized two days previous to the arrest for an e coli infection and was taking antibiotics, which exacerbated the effects of the champagne she drank at a jewelry event hours earlier.
"She regrets it. She's a mom, so she's embarrassed about it," Raymond Rafool revealed.
"She's just thankful it wasn't worse and thankful nobody got hurt. The police were all very nice. It wasn't a scene at all. It was anticlimactic."
Rafool also said that his client had two glasses of bubbly on an empty stomach before heading home alone to Simi Valley.
Hogan was released shortly before 9 a.m. on $5,000 bail, according to Los Angeles County Sheriff's Department records.
The timing couldn't have been worse for Linda – Hulk's sex tape was leaked on the internet providing more embarrassment for the Hogans.
But she wasn't surprised that the home video existed.