Look Young To Date Young! 10 Cougars Who've Gone Under The Knife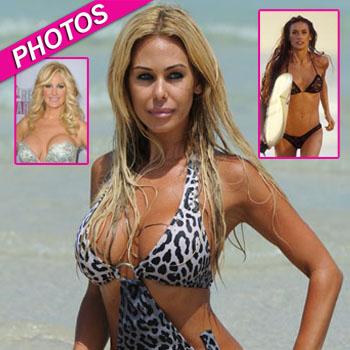 Judging by the looks of Hollywood's hottest cougars, looking young is the key to landing hunky cubs, even if it means extensive plastic surgery!
From big screen bombshells and television stars to Real Housewives and real life royalty, these older women have a thing for younger men, and are apparently willing to pay the big bucks to secure their sexy enough status. RadarOnline.com has photos of 10 cougars who have gone under the knife.
Article continues below advertisement
After spending the last several years of her marriage to Bruce Willis hiding out in Idaho, Demi Moore emerged in Charlie's Angels Full Throttle, showing off a much-younger face and figure. It was reported that she underwent several plastic surgery procedures before stripping down into skimpy swimsuits for her comeback role, and apparently it was successful. She soon landed much-younger Hollywood hunk Ashton Kutcher.
Age ain't nothing but a number to the Duchess of Alba! The young at heart 86-year-old, who is rumored to have undergone numerous plastic surgery procedures over the years, wed Alfonso Diez, 24 years her junior in 2011.
Linda Hogan doesn't know best when it comes to plastic surgery – or how to pick a good partner! The Hulk's ex-wife has clearly gotten more than a little work done on her face and body, and almost married her daughter's friend Charlie Hill, who was a whopping 29-years younger than her.
What other cougars have been rumored to go under the knife? Find out by clicking here.