DUI Millionaire Who Adopted His Girlfriend Drank 'Mind Erasers And Irish Car Bombs' Before Fatal Crash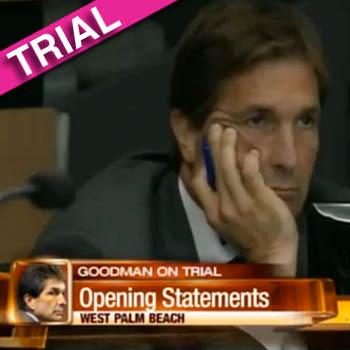 Article continues below advertisement
Goodman, 48, subsequently adopted Heather Laruso Hutchins, 42, as his daughter in a Miami-Dade County court last year, which is seen by many as a move to protect his $300 million fortune in preparation for a wrongful death civil lawsuit brought against him by Wilson's parents, William and Lili.
On Tuesday, prosecutor Ellen Roberts listed a string of intoxicating cocktails that Goodman and his friends ordered at a polo social before he got behind the wheel of his Bentley, including Mind Erasers (made with vodka, Kahlua and tonic water), and Irish Car Bombs, a highly potent combination of Baileys, Guinness and Jameson whiskey.
The prosecution then went on to detail how after drinking the deadly cocktails, the business mogul sped through a stop sign, smashed into Wilson, fled the scene of the crash, and called his girlfriend before dialing 911 an hour later.
"Goodman tells his girlfriend, 'I've been in a really bad accident, in an end of the world accident,' that's how he described it to his girlfriend, end of the world accident," said Roberts.
Article continues below advertisement
Not surprisingly, the defense painted a very different picture of that fateful night.
Attorney Roy Black argued that rather than being drunk behind the wheel, Goodman had car problems that caused his Bentley to malfunction and accidentally accelerate into the intersection. After the collision, he claims, the defendant was unconscious for some time and then tried to walk to get help once he regained his senses.
Hurting from the crash, he staggered to a nearby barn where he found some alcohol which he then drank to ease the pain, claimed Black, in a bizarre explanation as to why investigator reports suggest that Goodman could have had 16 to 18 drinks in his system.
The trial continues.
RELATED STORIES:
Jury Selected In DUI Manslaughter Trial For Multimillionaire Who Adopted His Girlfriend
DUI Millionaire's Children Want Adoption Of His Girlfriend Overturned By Judge