Ohio School Shooter T.J. Lane Appears Calm In Court For Pre-Trial Hearing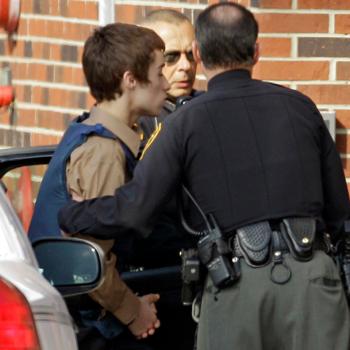 By Debbie Emery - RadarOnline.com Reporter
Alleged triple murderer T.J. Lane appeared calm as he sat quietly in an Ohio courtroom on Tuesday while the judge read out the charges against him in a pre-trial hearing.
"The purpose of the initial hearing is to inform the juvenile of the nature of the charges, to review with him the rights in the judicial process, and briefly review the possible consequences," explained Geauga County Probate and Juvenile Court Judge Timothy Grendell.
Article continues below advertisement
As RadarOnline.com previously reported, Lane is accused of killing three students and injuring two others at Chardon High School in Ohio on February 27, when he took a gun and a knife to the school and opened fire in the cafeteria.
Daniel Parmertor, 16, Russell King Jr., 17, and Demetrius Hewlin all died from gunshot wounds, while Nickolas Walczak began rehabilitation Monday at Cleveland's Hillcrest Hospital, and Joy Rickers is recovering at home.
Judge Grendell went on to read the charges to the 17-year-old suspect, which consist of six counts, the first three relating to aggravated murder in the first degree committed by an adult, the others are two counts of attempted murder and one of felonious assault.
The judge repeatedly addressed the shooting suspect as TML3, referring to his full name of Thomas Michael Lane III.
When asked if he was aware of the charges, Lane replied politely, "Yes, I am aware," and continued to remain still and unemotional as his rights were read to him, each time confirming that he understood.
Article continues below advertisement
Lane was joined by family members on his mother, Sarah A. Nolan's side, along with defense attorney Robert Farinacci, although neither of his parents was present in court.
T.J.'s father, Thomas Lane Jr., boasts a history of domestic violence against women, according to court records. He has been arrested numerous times for incidents that showed increasing levels of ferocity, and may well have been abusive against his son as well.
He was later charged with assaulting a police officer, and then served prison time for attempting to suffocate his next wife after he held her head under running water, then bashed it into the wall so hard that it left a dent.
Another hearing is scheduled for April 3 when authorities plan to discuss a motion to transfer Lane's case to adult court. It was postponed from March 19 because two new attorneys have joined the defense team.