Funeral Held For First Victim Of Ohio School Shooting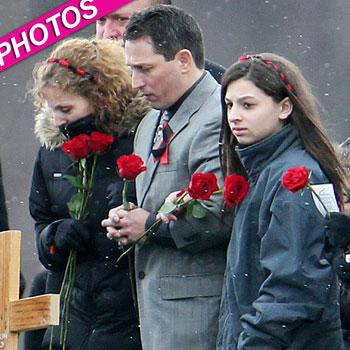 The funeral for Daniel Parmertor, one of the victims of the tragic Ohio school shooting, was held Saturday.
Parmertor's family held a private service for him at the Church of St. Mary – just across the street from Chardon High School where he was brutally killed by 17-year-old T.J. Lane .
The 16-year-old was then buried at All Souls Cemetery in Chardon, along with his pay from his job at a bowling alley. His family told The Plain Dealer that the teen did not even get a chance to open up the envelope from his new job.
Article continues below advertisement
Parmertor died on Monday and the two other victims; Russell King, 17, and Demetrius Hewlin, 16, died a day later.
As RadarOnline.com previously reported, Lane had a disturbed childhood filled with violence and neglect but no one anticipated he would go on such a rampage.
Prosecutors plan to charge Lane as an adult with three counts of aggravated murder, two counts of attempted aggravated murder and a felony assault charge.
Although initially it was believed the shootings were random, it is now reported that Lane may have had known at least one of his victims.
Lane killed the new boyfriend of his former sweetheart in a possible revenge attack. ABC News reports that the unnamed girl started seeing Russell King Jr., after she split with Lane.
RELATED STORIES:
Secret Life Of Ohio Shooter T.J. Lane: Inside The Mind Of A Teenage Killer