48-Year-Old Millionaire Adopts Girlfriend, 42, As Civil, Criminal Trials Approach In Fatal DUI Crash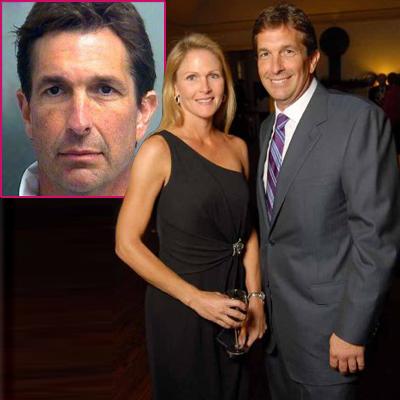 Air conditioning heir John Goodman has raised eyebrows by adopting his 42-year-old girlfriend Heather Laruso Hutchins, amidst pending legal affairs connected to his 2010 Florida car crash that claimed the life of Scott Wilson, a 23-year-old engineering graduate.
Police said Goodman's blood alcohol level was twice the legal limit in Florida at the time of the February 2010 crash, in which Goodman allegedly ran a stop sign in his Bentley, smashing Wilson's car into a nearby drainage ditch.
Article continues below advertisement
In addition to a civil suit from Wilson's family, Goodman (who's also the founder of the International Polo Club Palm Beach) is up on numerous charges, including leaving the scene of an accident, criminal DUI manslaughter and vehicular homicide. He's pleaded not guilty to the charges.
Legal pundits speculate the multi-millionaire adopted Hutchins to preserve his assets from pending lawsuits, as the adoption diverts a third of a trust fund he set up for his two biological children. Hutchins, who's been dating Goodman since 2009, would have direct access to her share of the money immediately, since the trust in question grants 70 percent of the sum once the beneficiary turns 35.
Attorneys for both sides have chimed in: Goodman's civil attorney Dan Bachi told the Palm Beach Post the adoption "has nothing to do with the lawsuit currently pending against him," and rather, was made to assure the stability of investments.
The attorney for the victim's family Scott Smith told the paper, "It cannot go unrecognized that he chose to adopt his 42-year-old adult girlfriend as opposed to a needy child."
Goodman's criminal trial kicks off March 6; if convicted, he could face up to 30 years behind bars. His civil trial is slated for later that month.
RELATED STORIES: