Exclusive
DUI Millionaire Can Legally Marry And Have Sex With 'Daughter' He Has Adopted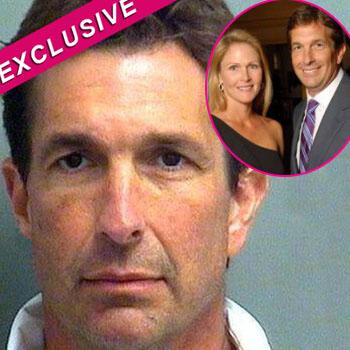 By Debbie Emery - RadarOnline.com Reporter
The 48-year-old millionaire who legally adopted his 42-year-old girlfriend just a month before he appears in court on DUI manslaughter charges and faces a potentially financially devastating civil trial can still legally marry and have sex with her, RadarOnline.com can exclusively report.
As RadarOnline.com previously reported, John Goodman was involved in a fatal car accident in Palm Beach, Florida in February 2010 that led to the death of 23-year-old engineering student, Scott Wilson, and has since legally adopted his longtime lover, Heather Laruso Hutchins, 42, which many believe was to protect his reported hundred million dollar fortune.
Article continues below advertisement
"While there is nothing illegal about this relationship. It is odd, weird and against our societal norms," Florida-based marital and family law attorney Ben Hodas told RadarOnline.com in an exclusive interview.
EXCLUSIVE DOCUMENTS: Read The Rebuttal Filed By The Wilson Family In Response To The Adoption
The lawyer went on to explain that the lack of legal infringements means Goodman can both bed and marry his new adopted daughter.
"There is no incest when there is no blood relation," Hodas told RadarOnline.com. "If there was it would be illegal, now it is just disgusting and they are allowed to sleep together and can certainly get married.
"It does not change their personal relationship at all unfortunately, I wish the law did do something about that."
In an earlier interview with RadarOnline.com, Scott Smith, the attorney for the victim's family, branded Goodman's questionable actions "sad" and said, not surprisingly, that the family is "devastated."
Article continues below advertisement
The accused will stand before Judge Jeffery Colbach in the Palm Beach County Courthouse on March 6, charged with DUI manslaughter and vehicular homicide, explained Smith, who is representing the victim's parents, Lili and William Wilson in their wrongful death lawsuit.
The devastating accident occurred on February 12, 2010 when Goodman, who is the founder of the International Polo Club Palm Beach, ran a stop sign and crashed his Bentley into Scott's vehicle, then fled the scene on foot as Wilson's car submerged in a nearby canal.
The millionaire did not call 9-1-1 for an hour, during which time Scott drowned –- many believe he could have been saved if emergency services arrived at the scene sooner. It was later determined that Goodman's blood alcohol was twice the legal alcohol limit.
If convicted, Goodman could face up to 30 years in prison, but it is his efforts to weasel out of paying Wilson's family their full due that has caught media attention.
Article continues below advertisement
"By way of this adoption Mr. Goodman has effectively gained owner or control of one third of the trust assets," explained Smith.
Family law expert Mr. Hodas agrees that the relationship between Goodman and Hutchins would be highly unusual if it wasn't purely for financial gain.
"It does seem odd, I can't see why else he would do it," he told RadarOnline.com. "It seems like he has found some kind of asset protection but there is still going to be a paper trail whatever he does. There seems to be some nefarious or clandestine purpose behind it.