Dental Dog Day Afternoon: Toothless Woman Robs Bank To Get Cash For Chompers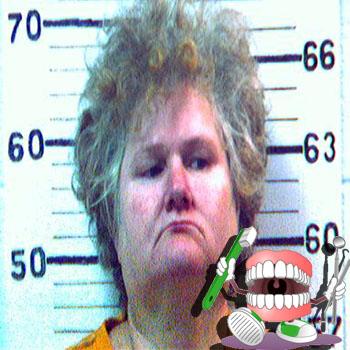 A 49-year-old toothless Pennsylvania woman is in custody on charges of robbery, theft and terrorist threats, after she robbed a bank last month to pay for a set of dentures, according to police.
Carmichaels native Evelyn Marie Fuller robbed the First National Bank in Waynesburg on January 20, police said, handing a note to the teller that she had a gun, and to hand over money without notifying authorities.
Article continues below advertisement
Fuller was fingered for the crime by an unnamed witness after police went public with a surveillance photo of the bank robber. The witness recognized the coat Fuller was wearing as they had loaned it to her -- she subsequently confessed.
"During her confession, she stated she wanted to use the money to pay for dentures she was unable to get through welfare until next year," Waynesburg officer Tom Ankrom told reporters.
Fuller was apologetic, police said, adding she was spurred to come clean after speaking with her pastor.
During Tuesday's arraignment Fuller told a district judge she has mental health problems and lives on disability benefits, the Observer-Reporter of Washington reported.
"I'm very sorry for what I did and I know God is going to punish me for it," Fuller told a reporter after her hearing.
Meanwhile, Fuller remains in the Greene County Jail unable to post bond.