Two Dogs 'Marry' in Most Expensive Pet Wedding Ever – It Cost $158,187.26!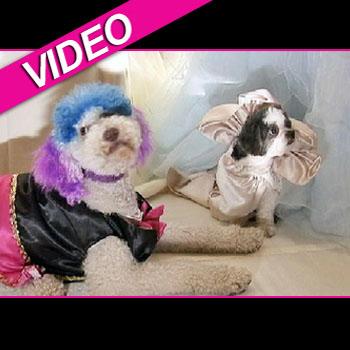 The bride was a real dog -- but then again, so was the groom!
Two pooches got 'married' in Central Park in New York Thursday night in a ceremony that cost a whopping $158,187.26, making it the most expensive pet wedding ever, according to the Guinness Book of Records.
The bride -- a white Coton de Tulear with black-gray markings named Baby Hope Diamond -- was led down the aisle in her canine couture gown, with a poodle, named Chilly Pasternak, serving as the groom.
Article continues below advertisement
Interestingly, Baby Hope Diamond was not the original bride. She was adopted by wealthy animal welfare activist Wendy Diamond after her beloved Maltese, Lucky Diamond, died of cancer last month. Lucky was the intended bride, so the wedding served as a celebration of the late dog's life.
No expense was spared for the black-tie gala, held at the Jumeirah Essex House Hotel at Central Park. The bride's dress cost $6,000, guests feasted on $5,000 worth of sushi and danced to a $15,000, 7-piece orchestra.
Guests bought tickets for the fundraiser and everything in the wedding was donated. All proceeds are going to the Humane Society of New York.
Watch the video on RadarOnline.com
In addition to the event setting a Guinness record, Lucky is also in its Book of Records: she was the animal most photographed with famous people. During her lifetime, she posed with more than 300 celebrities, from Twilight star Kristen Stewart to hip-hop star Snoop Dogg.