Un-Bear-Able Cuteness Overload! Baby Panda Takes Its First Steps On Video!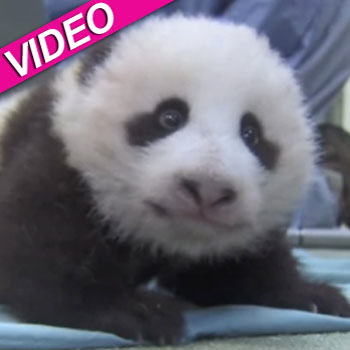 Article continues below advertisement
The cub is 21.6 inches long and weighs in at 7.2 pounds, and despite being only 11 weeks old, is already growing little teeth. The zoo revealed that Sausage has also become more active and has been climbing out of his den all by himself.
No doubt he's creating panda-monium for staff there!
He is the sixth cub of Bai Yun, a 20-year-old panda who is one of the oldest known giant pandas to successfully give birth. And just like his mom, and per a Chinese cultural tradition, officials are waiting until the 100-day mark to name him properly.
Panda conservation has been under the spotlight after the recent tragedy at the National Zoo in Washington, where a 6-day-old giant panda cub died after liver and lung problems.
The International Union for Conservation of Nature's Red List says pandas are one of the world's most endangered creatures with their population continuing to decline.
In fact, there are believed to be just 1,000 to 2,000 mature giant pandas in the wild today.
Article continues below advertisement
Lucky for Sausage he's in good hands at the San Diego Zoo and is constantly being attended to.
Meanwhile, the zoo has its own panda cam, which shows two views – one of the panda enclosure, another of the den where it takes a nap. We know what we'll be watching on a daily basis!