Couple Selling Family Home To Fund Reward To Find Lost Dog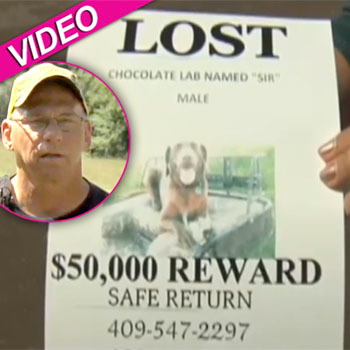 By Debbie Emery - RadarOnline.com Reporter
A heartbroken couple is proving that man's best friend is more important than having a roof over their heads after putting their home on the market to raise money to find their lost dog.
Charlie Parker of Warren, Texas, is so devastated over the loss of chocolate lab, Sir, who went missing from his home on September 15 while was mowing his lawn, that he is willing to do anything to get him back, reported KPLR.com.
Article continues below advertisement
"I've been looking for him every day since then," revealed Parker. "I beat myself up every day. If I'd have done this. If I'd have done that. Maybe he'd still be here.
"Me and my wife have never had any children. That dog is a replacement for a child," he explained.
Parker is now going to extremes to be reunited with his loyal companion of five years and offering a $50,000 reward to anyone who brings his dog home safe. He claims he's willing to give up anything to be reunited with Sir, short of sacrificing his wife or horse!
"We've raised $50,000 and now we've got the house up for sale," he said. "If I never got to go on another hunting trip or fishing trip or vacation to get him back, that'd be fine. He just plays such a big role in our lives."
Watch the video on RadarOnline.com
The distraught pet owner revealed how the loving lab was never far from his side.
"He would jump up in the bed every morning and we'd get up and have a new adventure," he recalled sadly. "It was another exciting day to be alive. Life doesn't mean a whole lot without him."