Dog Runs Two Miles – Twice – To Find Sick Owner In Hospital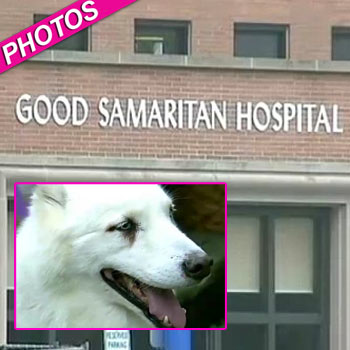 A New York dog went above and beyond to find his sick master, breaking out of his home and following his scent to a hospital two miles away.
Seven-year-old Zander – a white husky – was distraught last week when he couldn't find his owner John Dolan who was in hospital being treated for a skin condition.
"He was depressed. Totally depressed," Dolan's wife Priscilla told My Fox NY. "I think he was crying, I swear to God."
Article continues below advertisement
In an interview with CBS News her husband said: "My wife had told me the dog is moping around."
Zander was so distressed that he took matters into his own paws, broke out of their Bay Shore, New York home and made the two-mile journey to the Good Samaritan Hospital Medical Center. A staff member found him sitting outside the building.
But the Dolans say that Zander had never been to the hospital before.
"I don't know how he got there. I've never taken him there," Priscilla says.
But Zander didn't just make his way to the hospital once. He went TWICE! His owners think he followed his master's scent all the way there. To do so he had to cross both a busy road and a stream.
"It took a few days to sink in really he was coming to see me," Dolan says.
"He's my boy. We don't have children. We have three beautiful dogs. He's my buddy. I walk with him a lot so we bond… Us boys got to stick together."
Article continues below advertisement