Poor Little Critters: Animals Get Stuck In The Weirdest Places!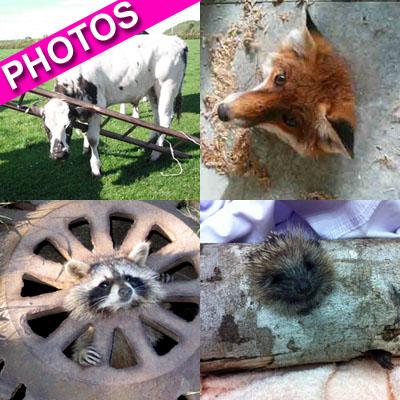 They say that curiosity killed the cat….
Well that may be true for some cats in some cases, but in the case of these animals (one of which happens to be a cat), curiosity didn't kill them, but it sure got them stuck, and RadarOnline.com has the very unfortunate photos!
These furry critters, large and small can't seem to stay out of trouble…. Literally.
Cats don't like to be wet and they definitely don't like getting their heads stuck in paint cans, so one feline found themselves having a particularly bad day when that exact fate befell them.
Article continues below advertisement
And, somehow, one poor pup managed to get himself stuck right at the top of a telephone pole, requiring a visit from the fire department to free the unfortunate soul.
Meanwhile, how many city workers does it take to get a German Shepherd out of a gate? According to photos of the sticky situation, at least four.
Then there's the case of the poor goats who mysteriously managed to wander onto the thin ledge of a railroad bridge, where they were subsequently stuck, staring at each other for a whopping two days before being rescued safely.