Fat Cat! 30-Pound Kitty Goes On Crash Diet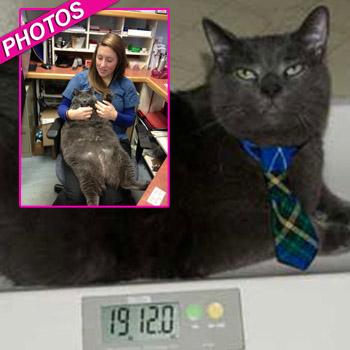 Move over Jennifer Hudson and Jordin Sparks. One of this summer's biggest slim-down success stories belongs to Tiny, a male cat who dropped 10.6 pounds after animal officials in New Brunswick, Canada devised a plan to address his unhealthy size.
The cat weighed 30.2 pounds (about twice his ideal size with his large frame) when he was left at the Fredericton SPCA in December. Officials at the facility took the oversized cat to the Valley Veterinary Hospital, where veterinarians put him on an effective weight-loss regimen, as Tiny now weighs less than 20 pounds!
Article continues below advertisement
PHOTOS: Meet 'Tiny' The Fat Cat
"When he came to the shelter," SPCA education director LeeAnn Haggerty said, "we knew this weight was a medical emergency, really that obesity in pets can be fatal, his weight was quite a concern."
Haggerty said the cat was often lethargic and unable to do much when he was heavy.
"You could tell he loved to play, he had that inner playful cat in him, but he could only take a few swats at a feather wand and then he'd have to rest," Haggerty said, adding that since dropping the weight, Tiny runs and plays with vigor.