When Diets Get Dangerous! Shocking Celebrity Eating Disorder Confessions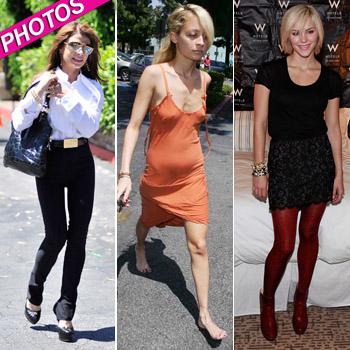 Which Hollywood stars have taken their desire to be thin to dangerous lengths?
It's no secret that celebrities spend a lot of time eating right and hitting the gym to keep their bodies looking camera ready, but some of them have taken the skinny obsession too far and entered eating disorder territory. RadarOnline.com has photos and details about 10 Hollywood celebrities who have confessed to suffering from anorexia or bulimia.
Article continues below advertisement
Jessica Alba has one of the most celebrated bikini bodies on the beach, but the hot mama was once so obsessed with keeping it looking fat-free and fabulous, that she started playing with fire and battled anorexia for several years.
"A lot of girls have eating disorders, and I did too," she admitted to Glamour magazine in 2005. "I got obsessed with it. When I went from a girl's body to a woman's body with natural fat in places, I freaked out. It makes you feel weird, like you're not ready for that body."
Pretty Little Liars star Lucy Hale is one of the latest young stars to come clean about her eating disorder. The 21-year-old confessed to Cosmopolitan in the September 2012 issue that she starved herself because of body image issues.
"I've never really talked about this, but I would go days without eating. Or maybe I'd have some fruit and then go to the gym for three hours. I knew I had a problem…It was a gradual process but I changed myself," she admitted.
Article continues below advertisement
Lady Gaga recently revealed that she battled with bulimia in her younger years.
"I used to throw up all the time in high school," she admitted earlier this year at the It's Our Turn conference. "So I'm not that confident. I wanted to be a skinny little ballerina, but I was a voluptuous little Italian girl whose dad had meatballs on the table every night."
What saved the sassy singer from falling permanent victim to the nasty eating disorder, was the desire to save her voice.
"It made my voice bad, so I had to stop. The acid on your vocal chords ... it's very bad," she said.
It was impossible for Mary-Kate Olsen and Nicole Richie to avoid eating disorder speculation, when both the young stars stepped out looking skeletal. Instead of fighting the battle alone, Olsen and Richie both got professional help to get healthy again.
Gretchen Rossi and Taylor Armstrong have more in common than their Real Housewives status. Both the reality stars have admitted battling eating disorders at one point in their lives.