Stars Who've Battled Eating Disorders & Those Who Are Naturally Thin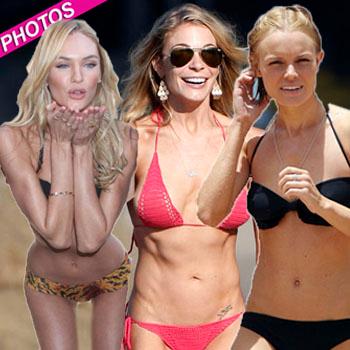 The pressure to be perfect weighs heavily on any aspiring actress struggling to make it big in Hollywood, and many literally starve themselves to get -- or stay -- in the spotlight.
RadarOnline.com has details on celebrities who have gotten back from the brink of emaciation after suffering from a dangerous eating disorder.
Already slim star Kate Bosworth became startling thin following her breakup from Orlando Bloom in 2006, but it was only after the Superman Returns actress gained a few much-needed pounds that she admitted she had a problem. "I was concerned for my health," she said. "It was a very dark time in my life."
Article continues below advertisement
Pirates of the Caribbean star Keira Knightley has often been bashed for her super slim physique, but the British beauty claims it is just the way she was genetically made. "My body type is naturally thin, there's nothing I can do about it," she bit back at critics who claimed she was anorexic.
After years of silence, Real Housewives of Orange County star Gretchen Rossi finally opened up about her battle with bulimia. "I had a really serious eating disorder," she confessed. "I finally got healthier and I was not going to allow Hollywood affect my recovery."
While LeAnn Rimes repeatedly denies having an eating disorder, her ex-husband Dean Sheremet admitted that he might be to blame for her obsession with diet and extreme exercise. "I'm kind of the one who got her into the gym, so I feel partly to blame," he said of the woman who cheated on him Eddie Cibrian.
Terminal train-wreck Tara Reid literally wasted away after her botched liposuction sugary in 2004, but fortunately the American Pie star is back at a healthier weight.
As big sister Jessica Simpson struggles to lose her pregnancy weight, Ashlee remains very svelte in light of the eating disorder she suffered as a child trying to achieve her dream of being a ballerina. "It was about six months of not eating too much at all," said the singer. "I was 11 years old and 5'2" and about 70 pounds."
For a shocking look at the most dramatic skin-and-bones in Hollywood, check out our gallery here.