Exclusive
Stick-Thin Model Anja Rubik's Hip Bone Flash Encourages 'Starvation Tactics'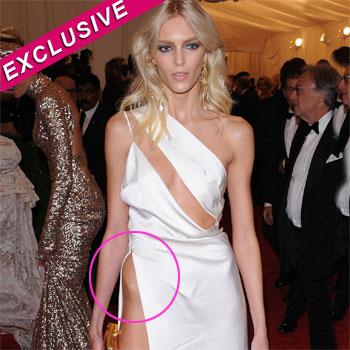 By Debbie Emery - RadarOnline.com Reporter
The Costume Institute Met Gala is regarded as one of New York City's most glamorous nights of the year, but sadly one guest used the occasion to flaunt her extreme thinness, and RadarOnline.com can exclusively reveal that her actions may have deep-rooted ripple affects and even risk her life.
In a pose that was reminiscent of Angelina Jolie's bizarre leg flash at the Oscars, model Anja Rubik deliberately stood with her razor-sharp hip jutting out of her skimpy cut-out white silk Anthony Vaccarello gown to accentuate her stick-thin figure.
Article continues below advertisement
"In exposing her body we can't help but think or wonder what she wants us to know about her?" pondered psychotherapist and eating disorder expert Jessica Aronson, who has not treated the model, in an exclusive interview with RadarOnline.com.
"Her dress and leg and bone exposure is revealing and it certainly sends a message to women about thinness," she explained. "And not a healthy message as in order to achieve it someone must go to extreme measures including starvation tactics and methods associated with eating disorders."
On an evening when glamorous A-list stars such as Gisele Bunchen and Beyoncé wowed the crowds, Rubik appeared to use her emaciated state as a desperate bid for attention, a move that has disgusted and concerned many others in the health industry.
"It's time the fashion industry as a whole looked at what is considered normal and healthy, and this is a clear example of why it's time to get serious about the topic," Jackie Keller, CEO of NutriFit, told RadarOnline.com in an exclusive interview.
Article continues below advertisement
"Although I don't know Anja's weight or health history, I do know that she does not appear to meet the standards that other countries (including Israel, Italy and Spain) are adopting for runway models. I congratulate those countries and encourage ours to do the same," she added.
"Skin on bones is not considered by most to be healthy or inspirational, or even attainable, so showing this as any type of ideal is clearly problematic, in my opinion."
Nutritional expert Dr. Fred Pescatore agrees that the 28-year-old Polish model - who currently stars as the face of Fendi and Elie Saab fragrances and the Karl by Karl Lagerfeld line – barely looks human, never mind healthy.
"This photo is a cry for help. She is putting it out to the world that she is in trouble and doesn't know what to do because she is clearly not eating," revealed Dr. Pescatore to RadarOnline.com.
Article continues below advertisement
Rubik is even at risk of becoming a real life fashion victim, "She can die from being this underweight, lose her bones, have her heart stop beating, miss periods, become sterile,
"This message from the fashion industry is wrong. I am the first one to stick up for thin people but she is a victim of starvation and that is a bad message," he said.
RELATED STORIES:
Karolina Kurkova Reveals Shocking Modeling Industry Weight Pressure