Absolutely Adorable Panda Cub Born In San Diego Zoo 'Bonding' With Mom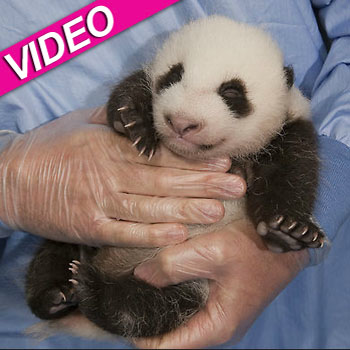 Article continues below advertisement
The black and white footage shows Mama Panda curled up tightly in a nest of straw in the birthing den at the San Diego Zoo's Giant Panda Research Station, while her cub "vocalized" loudly.
According to the zoo's panda blog, cubs are "are largely hairless and lacking in body fat; thus, Mom's warm embrace is essential to their survival in those early days. To keep such a small cub warm, the much larger mother must hold the baby up off the ground in her arms" and never sets it down.
Bai Yun is no stranger to the cameras, as her cub's birth was closely watched by anxious zookeepers, veterinarians and researchers on Sunday because at 20 years old her advanced age made it a high risk pregnancy.
The latest addition brings the total number of pandas at the San Diego Zoo to four: Bai Yun, her mate Gao Gao, their 3-year-old son Yun Zi and now the unnamed cub, whose sex will not be known for several months, reported the Los Angeles Times.
Article continues below advertisement