Tragedy Hits National Zoo As Newborn Giant Panda Dies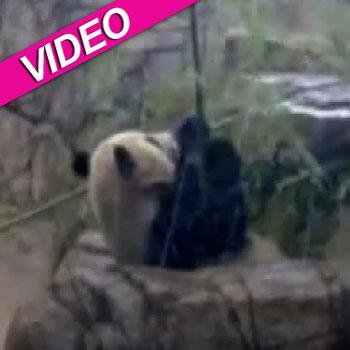 Just a week after excitedly announcing the birth of it first giant panda in seven years and even sharing the good news via its "Panda Cam," on Sunday officials at the National Zoo in Washington D.C. revealed that the cub has died.
In a statement on its website, zoo officials described the tragic turn of events:
"We are brokenhearted to share that we have lost our little giant panda cub. Panda keepers and volunteers heard Mei Xiang make a distress vocalization at 9:17 a.m. and let the veterinarian staff know immediately. They turned off the panda cam and were able to safely retrieve the cub for an evaluation at 10:22 a.m., which we only do in situations of gravest concern. The veterinarians immediately performed CPR and other life-saving measures, but sadly the cub was unresponsive. We'll have more updates as we learn more, but right now we know is that the cub weighed just under 100 grams and that there was no outward sign of trauma or infection. We'll share information with you as we learn more."
Article continues below advertisement
In 2010 a newborn red panda cub died suddenly at the Zoo, just a month after its birth.
"We're all very anxious to know what happened," the Zoo's chief veterinarian Suzan Murray said at a press conference. "We won't know that for a little while yet.
"The cub was just beautiful," Murray said, her voice shaking. "Beautiful little body. Beautiful face, with the markings just beginning to show around the eye, Couldn't have been more beautiful."
In the 1980s five giant panda cubs were born at the zoo to Ling Ling, a female given to the US by China. All of them died within a few days of their birth.
As RadarOnline.com previously reported a giant baby panda cub was born at the San Diego Zoo in July. That little guy is still doing well.