Face-To-Furry-Face! Photographer Gets Up Close And Personal With Polar Bears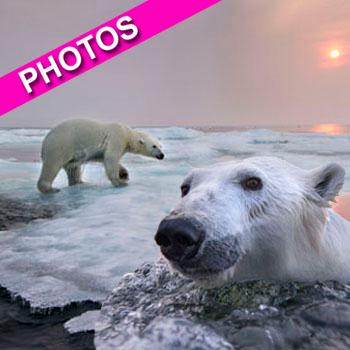 By Debbie Emery - RadarOnline.com Reporter
It took two weeks of shivering in arctic conditions but the patience and potential frostbite paid off for a wildlife photographer when a polar bear popped up in front of his camera lens for the shot of a lifetime.
Paul Sonders captured the giant white furry creature in a series of amazing photographs as it swam right up towards him in Hudson Bay in Churchill, Canada, as he floated on an 11-foot inflatable zodiac boat, reported the.
Article continues below advertisement
The huge female then quietly paddled up the coast until she became comfortable enough in the 51-year-old's company to let him take a more snaps shots of her lounging in the icy water.
"It took her some time to settle down. I really felt like I had to earn her trust," explained the photographer from Seattle, Washington. "I didn't feel threatened, but I knew that I was on a razor's edge - I had no margin for error.
"I watched her reaction very closely looking for any sign of aggression."
With males weighing up to 1,500 pounds and females are about half that size, polar bears are not territorial like grizzlies, and rarely attack humans.
Their remote habitat and solitary lifestyles make them hard to capture on film, so Sonders lugged his kit - which included a remote camera on a seven-foot pole and one with an underwater housing - 30 miles off-shore for the amazing photo op.
Article continues below advertisement