Toddler Who Died At Pittsburgh Zoo Was Killed By African Painted Dogs, Not Fall, Reveals Autopsy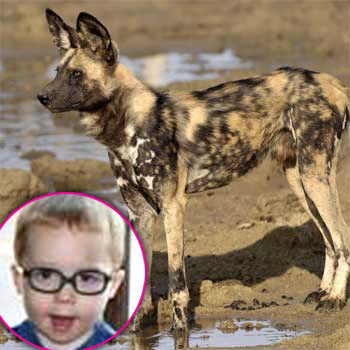 Article continues below advertisement
"What we understand from the medical examiner's report, the child did not die from the fall. The child was mauled by the dogs," said president and CEO of the Pittsburgh Zoo and PPG Aquarium, Barbara Baker. "The child initially was caught by the netting. From witness accounts the child was so small that he bounced, then he bounced twice and then bounced into the exhibit.
"The zoo feels terrible about this tragic accident that happened. It's your worst nightmare as a zoo professional," revealed Baker, as she fought back tears during a press conference on Monday.
The pack animals reportedly pounced so quickly that a veterinarian and zoo staffers determined it to be futile to attempt to rescue the child. "It was too late. There was no reason to send our staff into harm's way," said Baker.
As RadarOnline.com previously reported, the little boy's lifeless body was seen surrounded by three of the dogs, who were attacking his head, neck and legs.
"The screams just kept coming and coming," Angela Cinti, 20, told the Pittsburgh Post-Gazette: "We were on our way to the polar bear exhibit when we heard the most horrible piercing screams...someone was begging for help, asking someone to do something."
Article continues below advertisement
One of the dogs was shot and killed during the incident, with a zoo official describing their "pack mentality."
Neighbors revealed how Maddox was Elizabeth and Jason Derkosh's only child. "As a mom, I can't imagine this tragedy. Your heart stops when your kid skins their knee, I can't imagine what she's going through," said Rachel Majcher, who lives next door to the family.
"He was a cute little guy with light hair and red glasses. Every time we were in the back or front yard, my little boy would get so excited to see him," she recalled. "The hardest part is going to be explaining to my kids that their playmate is no longer here."
This is not the first lapse in security related to the dogs, who normally live in a 1.5-acre exhibit called the Painted Dog Bush Camp that's part of a larger open area of the African Savanna, also home to elephants, lions and other animals.
In May, some of the dogs crawled under a fence and escaped into a part of the exhibit that's usually closed. The zoo was on lockdown for about an hour as a precaution.
Article continues below advertisement