Man Horrifically Mauled By Three Grizzly Bears May Have Been Unconscious At Time Of Deadly Attack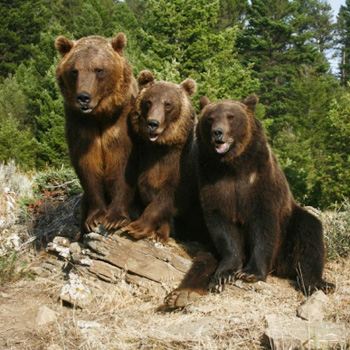 By Debbie Emery - Radar Reporter
A man who was horrifically mauled by three grizzly bears while cleaning out their enclosure at a Montana wildlife casting agency may have already been unconscious at the time of the attack.
Benjamin Cloutier, 24, of York Haven, Pennsylvania, was killed by the huge beasts on Sunday at the Animals of Montana center in Bozeman, but staff members believe he may have accidentally slipped in the cage or hit his head before the mauling.
Article continues below advertisement
"We do not believe it was an attack. The victim has been with us since 2008. He was a highly experienced trainer, and it is unlikely that the bears caused his death," Animals of Montana's lead trainer, Demetri Price, told ABC News.
"He had the right safety equipment and the right training to avoid that kind of attack. The investigators are looking into other causes of death."
Gallatin County Sheriff Brian Gootkin confirmed that Cloutier suffered multiple bite and claw wounds that hit major arteries, but said there is no way to confirm if the victim was conscious and that the death is listed as accidental.
However, the lack of defensive wounds and the fact that Cloutier did not use the mace-like bear spray attached to his belt suggests he could have already been knocked out when the bears pounced.
Animals In Motion provides wild animals for photo shoots and motion pictures, including the three resident grizzlies, Adam, Griz, and Yosemite, that the website describes as "highly trained."
Griz – who was "full of all sorts of energy" and "lived to practice his extensive list of trained behaviors" - was put down after the attack so that Cloutier's body could be retrieved. Yosemite is also suspected of being involved in the mauling.
Article continues below advertisement
"At the time we found our trainer, Griz had a grip on him. This was a life and death situation where I was putting my safety at risk while trying to save our trainer, whom we suspected might still be alive," said Price. "Our initial abating techniques failed and destroying Griz was our last resort to retrieve our trainer in the safest way possible.
"We suffered a double loss," he revealed. "We lost a very valuable trainer, tragically, and we lost one of our most precious bears. We invested in Griz hours and hours of training and love and care."
The trio of grizzlies stand between five and eight feet tall, weigh up to 800 pounds, and have starred in several films requiring "attack reenactments," using their trainers as stuntmen.
At the time of the attack, Animals of Montana owner Troy Hyde was away on a business trip to Los Angeles.
Cloutier's death is being investigated by the Gallatin County Coroner and Montana Fish, Wildlife, and Parks wardens, but currently the facility is not suspected of violating any licensing rules or regulations.