Tragedy At Pittsburgh Zoo: Toddler Mauled To Death By African Painted Dogs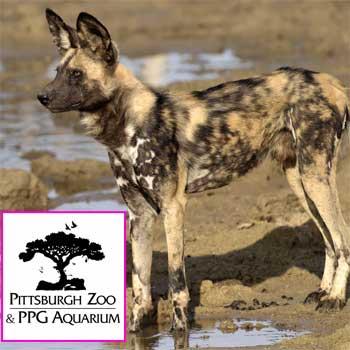 A two-year-old boy was mauled to death by African Painted Dogs at the Pittsburgh Zoo & Aquarium after he plummeted into their enclosure on Sunday.
The tragic tot fell over a wooden railing into the dog pit while visiting the zoo with his 34-year-old mother just before noon, and was immediately attacked by the animals that are on the endangered species list.
After the alarm was raised, zoo workers jumped into the enclosure with rakes to try and scare the dogs off and while they managed to deter seven of the beasts, they failed to get the remaining three away from the child, believed to be from Pleasant Hills, PA.
Article continues below advertisement
According to The Pittsburgh Post Gazette the little boy's lifeless body was seen surrounded by three of the dogs – also called African painted dogs – who were attacking his head, neck and leg.
"The screams just kept coming and coming," Angela Cinti, 20, told The Post-Gazette: "We were on our way to the polar bear exhibit when we heard the most horrible piercing screams...someone was begging for help, asking someone to do something."
One of the dogs was shot and killed during the incident, with a zoo official describing their "pack mentality."
Another zoo-goer, Bart DePasquale, also described the horror, saying: "On the way out I saw a mother who was distressed and crying and other people who couldn't even talk about it ...anyone who had been close were almost in tears, were walking out glassy-eyed.
"That's when multiple people told me the dogs attacked a young child."
Article continues below advertisement