Robbie To The Rescue! Lab Saves Two Dogs Stranded On Runaway Canoe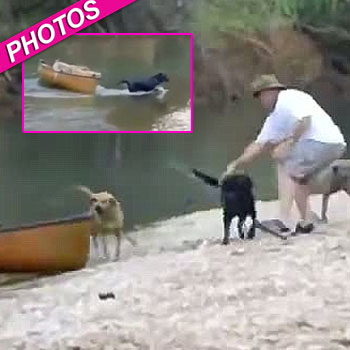 Move over Lassie — there's a new courageous canine in town!
Meet Robbie the Labrador who, without a moment's thought for his own fur, leapt into a river to rescue two stranded dogs on a runaway canoe, and RadarOnline.com has video of the hero hound in action.
The amazing footage starts with the two terrified dogs whining and barking from the canoe as it speeds down the fast flowing river.
Article continues below advertisement
Responding to his fellow canines calls for help, Robbie bounds in to the river and frantically paddles to the rescue, locating the canoe's attached rope and then amazingly drags it back to shore by his teeth!
Once in shallow water the once stranded dogs jump to safety without even a bark of thanks for the heroic deed, but thankfully Robbie's proud owner is on hand to heap lavish praise on the pup.