Exclusive
Caged Wolves At Twilight Premiere Party Outrages Party-Goers And PETA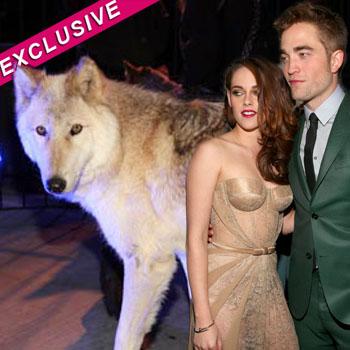 By Debbie Emery - RadarOnline.com Reporter
Vampires and werewolves were the theme of the night at the The Twilight Saga: Breaking Dawn – Part 2 premiere after-party on Monday night, but it was a pack of caged real-life wolves that raised the hackles of both guests and animals rights' groups.
"Outside the tent before you entered the party there was a really small cage with three wolves in it," an eye-witness tells RadarOnline.com exclusively.
Article continues below advertisement
"When I first saw it, my immediate thought, 'I am sure PETA is going to say something about this!' I personally thought it was not necessary to have this kind of attraction, wolves shouldn't be a gimmick."
As RadarOnline.com previously reported, the human stars of the fantasy franchise, Robert Pattinson and Kristen Stewart, looked every bit the part of movie stars -- and a couple in love -- earlier in the evening when they walked the red carpet at Nokia Live in downtown Los Angeles in front of crowds of screaming Twihards.
At the outdoor celebratory bash after the movie screening, the on-off couple were noticeably absent and it was co-star Taylor Lautner and the four-legged furry wolf pack that were the stars of the show for the estimated 3,500 guests.
"They were walking around the cage and didn't seen too distraught, the handlers were keeping people away and yelling at the wolves to pose for photos like stars on a red carpet!" the source tells RadarOnline.com. "I tried to take a photo but the handler took my camera from me and stuck it through the bars to snap them himself.
Article continues below advertisement
"It reminded me of when Water For Elephants with Rob Pattinson came out, I heard that everyone at the press conference was posing with the elephant!"
Party-goers weren't the only ones disgusted with the blatant display of animal show-piecing, and PETA (People for the Ethical Treatment of Animals) had a lot to say on the after-hours extravaganza!
"Didn't it dawn on the Twilight event organizers that real wolves do not belong at a party with blaring music and flashing lights?" asked Senior Vice President of Communications Lisa Lange in an exclusive statement to RadarOnline.com.