Kristen Stewart Ducks Savannah Guthrie's Direct Question About Rob Pattinson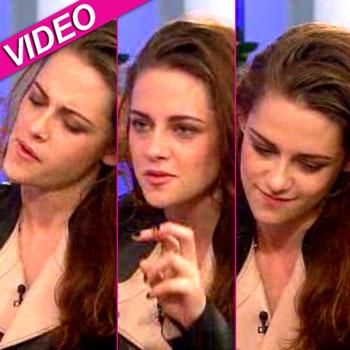 Kristen Stewart continues to keep her love life to herself.
The broody beauty, during her appearance on Wednesday's edition of the TODAY show, demurred at Savannah Guthrie's direct question if she's back with Rob Pattinson.
"Funny you mention that," said the 22-year-old star of The Runaways. "I'm just going to let people watch whatever little movie they think our lives are and go for it.
Article continues below advertisement
"Keep them guessing, I always say."
As we previously reported, it's been rough sledding for the young Twilight stars over the past few months, ever since Kristen cheated on her Twilight co-star with her director in Snow White and the Huntsman, Rupert Sanders. As of late, KStew and RPattz seem to be an item once again, though some question whether it's just for public appearances in efforts to milk the last cash cow in the vampire series, The Twilight Saga: Breaking Dawn – Part 2.