Why So Shy? Robert Pattinson & Kristen Stewart Hide Faces Leaving Prince Concert Together!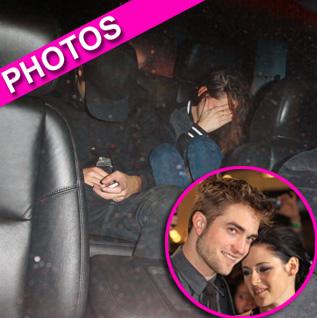 Together again! Robert Pattinson and Kristen Stewart were photographed early Friday leaving a Prince concert at The Sayers Club in Hollywood, and we've got a photo of the camera-shy duo right here on RadarOnline.com.
The A-list Englishman and broody beauty had been apart this week promoting Twilight Saga: Breaking Dawn Part 2, he in Australia, she in Japan.
The Cosmopolis star, 26, is back with Kristen, 22, months after she cheated on him with her married director in Snow White And The Huntsman, Rupert Sanders.
Article continues below advertisement
Earlier this month, billionaire Donald Trump warned Rob about taking the two-timing Kristen back, tweeting that "she cheated on him like a dog & will do it again--just watch … she will cheat again--100 certain--am I ever wrong?"
The Twilight Saga: Breaking Dawn – Part 2 hits theaters on Friday, November 16.
RELATED STORIES: