Robert Pattinson Calls Twilight's Bed Breaking Sex Scene 'Pretty Ridiculous'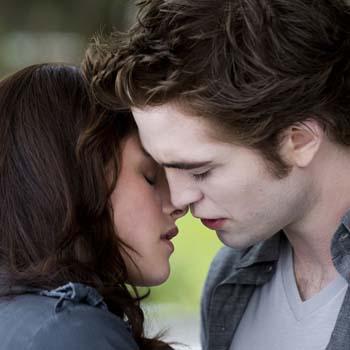 So much for hot and steamy! Robert Pattinson says the bed breaking sex scene between Edward and Bella in the highly-anticipated The Twilight Saga: Breaking Dawn –Part 2 is "pretty ridiculous" and that even the cameraman "was laughing" during the shoot.
Pattinson -- appearing on The Kyle & Jackie O show in Australia to promote the film, said of his on-screen romp with co-star and on-again love Kristen Stewart: "The sex scene in this one is pretty ridiculous. It's just because you're kind of shooting stuff to be PG-13, and so it's just trying to think of inventive ways to try to make something sexy.
Article continues below advertisement
"It also can't just be a normal sex scene," the British heartthrob, 26, added, describing the moment Edward and Bella finally do the deed. "It's supposed to be about, like, the greatest vampire sex you've ever had. So a lot of it was just close-ups on me and Kristen's faces, but there was no one else there.
"You literally try and give a face of ecstasy… Guys' faces I don't think are really designed to do that… The cameraman was laughing as well."
Pattinson arrived in Australia this week for the first leg of worldwide promotion blitz for The Twilight Saga: Breaking Dawn – Part 2. His co-star Kristen Stewart is in Japan promoting the film while Taylor Lautner is in Brazil.
Breaking Dawn – Part 2 hits theaters nationwide on Friday, November 16.
RELATED STORIES: